Communication Studies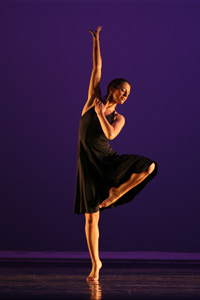 As a communication studies major, you will examine the role and evolution of communication throughout history and the ways it impacts our increasingly global society.
Your education in this major incorporates aspects of the humanities, social sciences, and professional degrees. The versatility of the communication studies program ensures that you will have many opportunities for work in a variety of industries, as well as for graduate school.
"Over my four years I developed a strong work ethic, taking pride in the work that I turned into my professors. The communication department's standards for education have taught me the importance of writing and communicating clearly to an audience. I saw each assignment as a reflection of myself and this pride in my work has carried over into my internship." —Brittany Taylor '08
Minors and Concentrations
The communication studies major program offers several tracks of study within which you can pursue your distinct interests. You may want to join the many other students who link their studies in communication with performance-based programs in dance and theatre to round out your education.
You can select a concentration in mass communication or speech communication, and choose from minors in advertising, public communication, public relations, dance, theatre production, and theatre performance.
Writing in the Major
You will complete an advanced writing proficiency requirement by submitting a portfolio of writing samples from three categories that correspond to the curricular requirement. The papers for the portfolio are based upon assignments prepared for courses in the communication studies major. You will submit your portfolio for review in January of your senior year.
Senior Comprehensive Examination
You will complete the Senior Comprehensive in one of two sequences of courses reflecting the main intellectual traditions of the communication discipline: 1) research methods (COMM 385, 496), which explores social-scientific methods of inquiry, or 2) rhetoric and criticism (COMM 302,495), focusing on the critical analysis of all types of public communication. The first course in either sequence should be taken in the spring of the Junior year, the second in the fall of the Senior year.
Hands-on Learning
Internships are available to students who have completed 20 hours of credit in the communication studies major. Internships provide an important transition between the classroom and working world. You will be involved in a variety of projects that enable you to put your own creative and organizational skills to work in a professional setting. Internships will also help you begin to adapt to the obligations and responsibilities of the workplace.
Internships include assignments in public relations, advertising, marketing and sales for area hotels, social service organizations, government agencies, television studios, volunteer agencies, and hospitals.
Careers
As a graduate of Saint Mary's with a bachelor's degree in communication studies, you will be well-suited for a wide array of careers in a number of industries. Examples of careers in electronic media include video editing, news directing, news producing, and reporting. Or, you could pursue a career in public relations, careers such as a corporate public affairs specialist, an account executive, a lobbyist, or a sales manager. Advertising draws on many of the same aptitudes as the public relations field. You might want to work as a copywriter, media planner, or public opinion researcher. Another avenue to pursue is as an educator, which requires specific forms of professional certification ranging from teaching certificates to doctoral degrees.