Good Deal - Nora Casey '08
Good Deal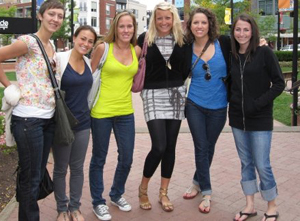 Nora (second from right) with friends from the
Class of 2008 
Go-getter Nora Casey '08 was always interested in the business side of television. That's why she chose a communication studies major at Saint Mary's. This driven alumna recently made the move to Chicago from New York City, where she works for FOX Broadcasting.

As a senior at Saint Mary's, Casey interned for FOX Broadcasting's integrated marketing department in New York City. When she graduated, they offered her a job and Casey was off to the big city. Casey transferred to Chicago after two years and now work as a sales assistant for FOX Primetime and FOX Sports Ad Sales.

Casey says the experiences that led to her career—like her hands-on coursework through the communications department and the FOX internship—were grounded in the liberal arts education she received at Saint Mary's. "Obviously my job and most jobs for that matter cannot really be taught in a classroom but more through experience. What Saint Mary's taught me was how to have the strength and confidence to go for what I wanted," she says.

Casey was nervous as a twenty-two year-old heading off to the Big Apple for an internship with FOX. "But Saint Mary's had taught me to believe in myself and that confidence really helped me through my internship, which eventually led to my career," she says. 

What contributed to her confidence were the community of "strong, intelligent women" at Saint Mary's and a semester of study abroad in Seville, Spain. During her sophomore year, Casey lived with a Spanish host family who spoke no English and went to school with students from other U.S. colleges.

"Study abroad is about traveling to other countries and being exposed to completely foreign cultures," says Casey. One of her cherished memories from the semester is of riding a camel through the Sahara Desert and sleeping overnight there in a tent. "Those types of experiences happen once in a lifetime," says Casey, who believes in taking learning outside of the classroom and into the world.

Now Casey is busy putting her skills to work for FOX. She sells commercial advertising units, working with internal traffic and inventory departments as well as advertising agencies to facilitate existing deals, coordinate pending deals, and follow through with her clients. From intern, to marketer, to advertising dynamo, Casey goes to work each day with the confidence and know-how to make those deals happen.