To Guide and Teach - Ashley-Rose Cameron '11
To Guide and Teach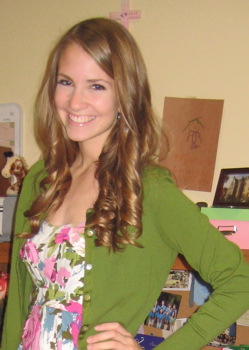 California native Ashley-Rose Cameron '11 was all set to major in communication studies at Saint Mary's. But during her first year, she became a tutor through the College Academy of Teaching (CAT) program, through the Office for Civic and Social Engagement, and her plans changed. "I realized my true passion in life was teaching," says Ashley-Rose. She switched her major to education with a special licensure in reading and picked up a French minor.
Along with her coursework and CAT tutoring, Ashley-Rose has amassed volunteer and field experience that she says will support her, "as I guide and teach future generations." She has volunteered with the Read-to-a-Child Program, the College's Pen Pal Program, and worked with kids at the Early Childhood Education Center on campus for one semester.
"I am also involved with Friends with Sisters and go to visit my nun, Sister Ignatius, regularly. She is 96 years old and the only nun who wears the full habit!" says Ashley-Rose. Talking with Sr. Ignatius and observing her faith life has been an encouragement to Ashley-Rose as she grows in her own faith. "I have grown as a humanitarian knowing her and admiring her holy life serving God," says Ashley-Rose. "I aspire to improve the lives of others with kindness and compassion."
She's already a positive influence on the lives of her tutoring students, as well as the children she works with in a first grade classroom at Swanson Primary School as part of her education field experience. She also plays a major role in the lives of her fellow students as a resident advisor in Holy Cross Hall, a position she's held for the past two years. In 2010, the National Residence Hall Association recognized her for her dedication in that leadership role. She received a National Residence Hall Honorary Award.
Dedication is a hallmark of Ashley-Rose's personality. Her commitment to teaching, to service work, and to caring for others is testament to that. Her Saint Mary's experience has given her the education and opportunity to develop and express that quality. "The Saint Mary's community encourages and fosters leaders who are willing to use their God-given talents and skills to reach out to others in need," she says. "I look forward to using my Saint Mary's education to guide and teach our future generations."