Helping Heart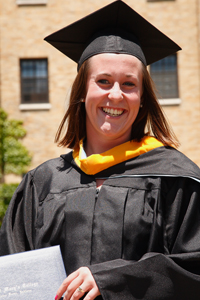 Saint Mary's alumna Erin Hogan is all heart when it comes to knowing what she wants to do in life. The 2008 graduate, and class vice-president, is working in Chicago as a registered nurse at Hope Children's Hospital in the Pediatric Surgical Heart Unit. Her interest in nursing stemmed from something close to her heart – the illness of a close family friend, Elizabeth, who was born with a congenital heart defect. "Spending time with Elizabeth and watching her live through three open heart surgeries, I fell in love with pediatric cardiology. The idea that I could be apart of that same team that saved Elizabeth and essentially fix the 'broken' hearts of children is incredible," says Hogan.
The nursing major says her mother often jokes that Hogan knew that Saint Mary's was the place for her after their first drive down The Avenue. "After visiting campus and extensively researching the nursing program here at Saint Mary's, I was convinced that Saint Mary's was the perfect fit for me," says Hogan. Saint Mary's nursing program is one of six nationally accredited programs.
Hogan has a heart for volunteering both at Saint Mary's, and in the community, having volunteered at Holy Cross Convent, the Center for the Homeless, St. Margaret's House, and Rebuilding Together as a team leader, just to name a few. She was a peer minister, and a member of Friends with Sisters, the Student Nurses Association, the Nursing Pinning Planning Committee, and the Commencement Committee.
As a nursing major, Hogan found her community health nursing class to be the best, "hands down," giving credit to professor Ella Harmeyer. "She is an unbelievable woman who has opened the eyes of many, including myself to the world of public health and community based nursing."
When it came to balancing academic and civic life, Hogan looked to Carrie Call, psychology lecturer and Director of the Office for Civic and Social Engagement (OCSE) as a role model who helped her to keep things in perspective, and as one who pushed her to extend herself beyond her comfort zone. "I am confident that without her I would not be the woman I am today," says Hogan.