Homecoming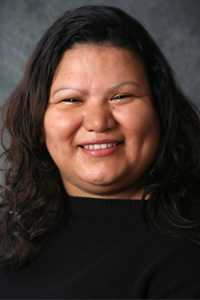 Alumna Adriana I. Petty has made her way back home to Saint Mary's. This past May, the '01 grad took on the position of International Student and Scholar Advisor, in the Center for Women's InterCultural Leadership (CWIL) . Petty came to Saint Mary's through a summer camp targeted at Latina high school students. "I attended El Campo De Cultura y Conocimento (now known as Encuentro ) and I fell in love with the campus," says Petty.
The social work major was previously at the St. Joseph County Minority Health Coalition, for five and a half years as the Minority Outreach Specialist and for one year as the Executive Director. She is currently working with Saint Mary's IT department to develop and launch a new database to streamline the study abroad application process. "I am also preparing for the International students' orientation and I am so looking forward to meeting the incoming first years."
Petty says as a student at Saint Mary's the best part was the "relationships I developed and the support we provided each other while in school and now as adults." This support continues for Petty as she hopes to help the generations that come after her.
"Many times for ethnic minorities or multicultural individuals who are at Saint Mary's College, they are the first ones in their families to go to college. It's a lot of weight and responsibility to carry all of your family's hopes and dreams on your 18 – 21- year old shoulders," says Petty. "And being in that position, it can be overwhelming and lonely. If I can help support someone's journey to be less overwhelming and less lonely, then I would have hopefully in some small way, made a difference in the world."
In addition to her current position, Petty is also the advisor for the Around the World Club. Since returning to Saint Mary's she has been a co-presenter at an Intercultural two-day workshop for the Sisters of the Holy Cross from around the world. "It was amazing to connect with them, to observe them making connections for themselves, and to develop new relationships with them," says Petty.
Looking back at her time as a student, Petty lists a number of Saint Mary's faculty and staff who made an impression on her, including Mona Bowe, the Director of Admission, English professor Anne Loux, and anthropology professors Marcia Good and Katherine Shoupe. "Without them and their support my experience may have been very different," says Petty.