Listen and Learn - Michelle Sherman '08
Listen and Learn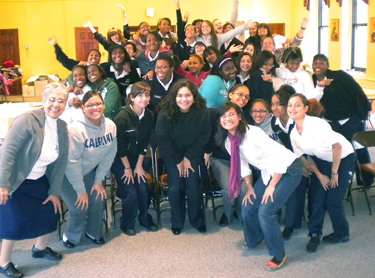 Michelle Sherman '08 (right, pink scarf) leading a retreat
with MSC sister (left)
Michelle Sherman '08 is a good listener. She had to be, working as a youth minister at Mother Cabrini High School in the Washington Heights neighborhood of New York City. Students would stop by her office every day just to talk, to ask for advice, or to vent. The students, all young women, would often ask her about her relationship with God.

"In all of these situations, I was amazed at how much I learned from them and how my own understanding of myself and God had grown deeper," says Sherman.

After graduating cum laude from Saint Mary's with a BA in humanistic studies, Sherman dedicated a year of her life to service. She joined the Cabrini Mission Corps (CMC), a lay mission program sponsored by the Missionary Sisters of the Sacred Heart of Jesus. Although she had performed service work before, Sherman says she wanted to throw her whole heart, and her time, into the experience of serving others.

She became part of the Mother Cabrini High School staff as a campus minister and teacher. Sherman taught health classes to sophomores and Church history and liturgy to juniors. As campus minister, she was responsible for all of the school liturgies, from the Welcome Liturgy at the beginning of the school year, to the Thanksgiving and Christmas Masses, to the Confirmation Liturgy, and many others. She also headed up a variety of service clubs and planned class retreats.

The work was demanding, but it gave Sherman the experience she was looking for while helping her discern what was in her future career-wise. "In addition, the application to the CMC program is very much a discernment in itself—and their emphasis on spirituality matched my craving for it. It was not so much something that I chose for myself, but a program that was chosen for me," explains Sherman.

While balancing her responsibilities at the school, Sherman lived in community with other CMC volunteers and MSC sisters. The situation gave her the opportunity "to grow in, explore, and live God's values in community and simplicity," she says. In other words, she listened, to God and her own heart, as well as the students she served.

Sherman then determined her next step. She was accepted to every graduate school she applied to this year and received a full scholarship to Villanova University in Philadelphia, Pa., where she started this fall. She will earn a master's degree in theology and a certificate in lay ministry while working in Villanova's Office of Mission and Ministry.

Last year, when she started as a young teacher at Mother Cabrini, Sherman participated in an exercise where new teachers sketched an outline of their own philosophy of education. One of the precepts she came up with reflects a value that has guided her along a path of service—to "desire and pray to see students, faculty, and staff as God sees them. (This includes yourself!)" With this desire, Sherman continues to grow, learn, and lead a life of service.