Rising to the Challenge
Rising to the Challenge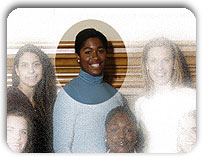 Sometimes, you have to take the road less traveled.
Three years ago, as a standout athlete at Chaminade-Julienne High School in Dayton, Ohio, Lauren McCalister saw two options for her future.
"In high school, for me, there was a decision between academics and athletics," says the Saint Mary's junior. "I could go to a state school, play basketball, become some sort of legend, or take the academic route. It sounds cliché, but going the athletic route would have been a cop-out. Basketball was never a challenge for me."
Her high school hoops team was a nationally ranked powerhouse that won state championships and sent star graduates on to careers in the WNBA. During her senior year, a number of colleges courted McCalister with offers of athletic scholarships. As an NCAA Division III school, Saint Mary's could offer other types of financial aid.

After visiting Saint Mary's with her mother—and getting a full-court press from friends who had enrolled at the College and loved it—McCalister decided she'd found a match. And even though Saint Mary's has eight competitive varsity athletics teams, including basketball, she didn't try out for a sport freshman year.
Instead, McCalister wanted new challenges. Setting her sights on a career in politics, she chose two majors—political science and business—that she believes will get her there.
Why that game plan? "Two things wake me up in the morning: injustice and money," McCalister explains. In her political science classes, she's analyzing the historical legacies and legal systems that perpetuate injustice. "Business has been the vehicle by which I am understanding economics and the rule of the almighty dollar," she adds.
In pursuit of the almighty dollar, McCalister works part-time in the College's Office of Special Events. She's also president of the Sisters of Nefertiti and serves on the Student Diversity Board, two groups that celebrate and promote diversity on campus.
McCalister has visited local high schools and encouraged students of color to consider Saint Mary's as a challenging path they might choose.
"If you put people in these surroundings, they see the benefits of getting an education, growing in their faith, interacting with people of other cultures—all things that in a different environment they aren't challenged to see."