Courtside Commitment: Sara Crandall '11 Managed Notre Dame Basketball
For as long as she can remember, Sara Crandall '11 has loved sports. So much that she hoped to play at the Division I level once she reached college. However, after a career-ending injury during her senior year of high school, the Michigan native thought her dream of being a part of a college basketball program was over. But when Sara started her first year at Saint Mary's College, she realized she wasn't ready give up her love of the game.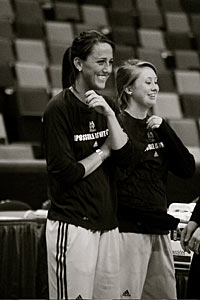 "Playing sports all my life, I have always been part of a team," she said. "So when I heard about the student manager program on my tour of Saint Mary's, I was very interested."
The University of Notre Dame Student Manager Organization is a scholarship program through the Notre Dame Athletic Department that commissions Notre Dame and Saint Mary's students to serve as managers for the University's NCAA Division I teams, ranging from the Fighting Irish football team to the swim team.
Sara applied to the program as a freshman and was selected among 200 other first year students. Before graduating in May, Sara was one of just 21 senior student managers and served as a primary manager for the Notre Dame men's basketball team.
Whether it was organizing practice equipment or planning recruiting events, Sara was responsible for a number of behind-the-scenes projects for Notre Dame athletics.
"No two days are the same as a student manager," Sara said. "There is always something different to do."
This year, Sara's role as a student manager for the men's basketball team was particularly exciting. The team ended the season with a 27-7 record and was selected to play in the NCAA tournament. The team also won the Old Spice Thanksgiving Tournament in the fall and finished second in the Big East Conference standings.
"Working with a winning team is definitely more exciting and fun," Sara said. "All the long-hour days go faster and don't seem as bad because we were doing well."
Sara, a business administration and economics major, said the challenge of organizing a variety of managerial tasks and dedicating more than 40 hours a week to her job has prepared her for her future career in sports management. Besides earning a scholarship for her work and forming networking connections, Sara said her participation in the student manager organization has given her priceless memories.
"The experiences I have had being a manager are experiences people dream about having," Sara said. "Such as painting the helmets gold every week, working on the sidelines for the football and basketball games, being in the team locker rooms, and being seen on many networks while working. It's a very unique job."
Sara also formed strong friendships with her fellow student managers. "You form a close relationship with these people because you spend so much time together and are all going through similar experiences," she said. "I know the friendships I made are ones I will have for the rest of my life."
Sara acknowledged the importance of the bond between Saint Mary's and Notre Dame when expressing her gratitude for being able to participate in the student manager program.
"I think the relationship between Saint Mary's and Notre Dame is very important because both schools offer opportunities to students that the other school does not," Sara said. "It allows for students to get involved in even more extracurricular activities."
— Bridget Meade '12