Economics Major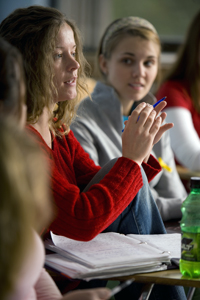 Whether you're analyzing policies from Washington or studying anthropology, your expertise in economics is a kind of skeleton key, opening doors all over. You'll explore a variety of options, from journalism to working as an industry/economic analyst.
The Experience
The economics program blends valuable classroom instruction from faculty who bring extensive real-world business experience with an abundance of opportunities to apply what you learn in real, meaningful ways. Economics majors undertake internships with a multitude of companies, both paid and for academic credit. Additionally, the Department of Business sponsors guest speakers and seminars on campus to give insight to the role and future of women in business processes.
The Requirements
The program curriculum covers all aspects of business adminitration, plus aspects of economics, including macroeconomics, microeconomics, and economics in labor, international, and public sector. In your senior year, you'll take the BBA comprehensive examination.
The Writing
As part of the program's advanced writing proficiency requirement, you'll submit a portfolio of three papers from business courses with at least one coming from an economics class. The ability to write as a business professional is critical. The emphasis we place on developing your writing skills will demonstrate the breadth of your skills and talents to prospective employers and graduate schools.
The Results
Economists today are not limited to financial business. Possible careers include business or government positions making forecasts, strategic planning, collecting and analyzing data, predicting exchange rate movements, and maintaining regulatory processes. Alumnae have also pursued opportunities in management, international and economic development, among other fields.