Economics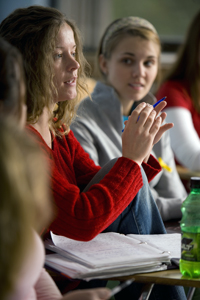 Whether you're analyzing policies from Washington or studying anthropology, your expertise in economics is a kind of skeleton key, opening doors you might not expect. You will be able to explore a variety of options, from journalism to working as an industry/economic analyst.
"My education at Saint Mary's taught me the value of challenging myself, my school, and my community. I found that with challenge comes experience, education, and discovery. As I challenge myself in the workplace, I discover levels of leadership I never thought attainable, and I hold my community to a high set of values." —Ashley Oberst '07
Writing in the Major
To satisfy the Department of Business Administration and Economics Advance W requirement, you must demonstrate writing proficiency in your chosen discipline. This requires you to compile a portfolio of three accepted papers from your economics courses.
Senior Comprehensive Examination
The B.A. Comprehensive Examination in economics is an objective test on basic material. Successful completion of ECON 495-Senior Economics Seminar, which includes a major research paper, is also required.
Hands-on Learning
Faculty members have all worked outside academia, and bring real-world experience and expertise to their teaching. Small classes are taught in courses that will challenge you and develop your communication skills and technical competency. Business majors undertake internships with a multitude of companies, both paid and for academic credit. Additionally, the Business Department sponsors guest speakers and seminars on campus to give insight to the role and future of women in business processes.
Careers
Economists today are not limited to financial business. Possible careers include business or government positions making forecasts, strategic planning, collecting and analyzing data, predicting exchange rate movements, and maintaining regulatory processes. Alumnae have also pursued opportunities in management, international and economic development, among other fields.