Swing, Batter, Batter, Swing!
Swing, Batter, Batter, Swing!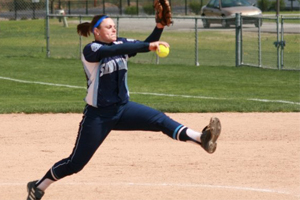 For McKenna Corrigan, "stepping up to the plate," meant stepping up to the pitcher's mound. "McKenna stepped up to fill a much needed spot – pitcher – after not having pitched for almost three years," explains Saint Mary's softball coach, Erin Sullivan. "She is the heart of our team - being the only senior is tough, but she has stepped up and gotten support for our whole team." Corrigan's accomplishments include a 12-0 senior season, becoming Saint Mary's first undefeated pitcher in a conference, and standing out as a league leader in homeruns.
Corrigan, a history major and secondary education minor, has little time for much else, between softball and interning for her career in teaching. But she did spend a semester in Rome during her sophomore year. "Saint Mary's has the best Rome program out of all the American schools that have programs there," says Corrigan.
Corrigan's favorite class at Saint Mary's has been "anything taught by Dr. David Stefancic," known as Dr. Dave. "Dr. Dave brings history alive," says Corrigan. "His saying, 'Come for the candy, stay for the lecture,' truly describes his class. Hardly anyone ever missed."
When it comes to mentors Corrigan doesn't stop at one. She gives credit to her softball coach as someone who "has held me to some very high standards and has given me the opportunity to lead." Karen Van Meter, the Director of Student Teaching, in the education department has been her "angel and saving grace" when it came to helping Corrigan juggle softball and student teaching. Finally, Amanda Littauer, who served as Corrigan's senior comprehensive adviser, helped her to be a better writer.
Corrigan's decision to come to Saint Mary's was an easy one. "It was in my blood," says Corrigan referring to her alumna mother and aunt. "Not to mention I wanted to play softball, I thrive in a small class size setting, and I could attend all the Notre Dame football games as a student. College doesn't get much better than that."
Corrigan plans to teach high school or middle school social studies in Chicago, preferably the inner-city, "a place where many children do not have the opportunity to receive a top quality education" says Corrigan.
Corrigan is ready to provide those students with that top quality education she speaks of. "Saint Mary's is renowned for its education program. I know I would not have had quite this caliber of training in education had I gone anywhere else."