Taking the Next Step
Taking the Next Step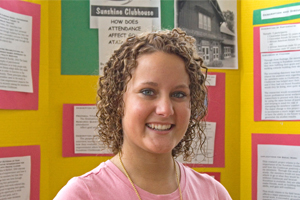 Senior Anne Therese Stroude is ready for her next step—attending Washington University in Saint Louis, Mo., to attain her master's degree in social work. When she gets there, she'll already be outpacing the other students. "Saint Mary's College has prepared me through their accredited social work program. I have been blessed with the most talented and intelligent professors, who were also my support system in the academic world," says Stroude. "Thanks to the rigorous curriculum, I have been offered advanced standing at Washington University and will be a step ahead of the other students who will not be graduating with a bachelor's in social work."
Anne Therese has been active in the area of social work during her four years at Saint Mary's. She has been a member of the Social Work club for the last three years and is currently the community liaison officer; she volunteered at Catholic Workers House and the Center for the Homeless, and she is currently an intern at Sunshine Clubhouse in South Bend, Ind.
"Sunshine Clubhouse is a daily treatment program which uses the psychosocial rehabilitation approach to work with members—not clients—to gain skills to use outside in the community," describes Anne Therese. Some members have been diagnosed with schizophrenia, schizoaffective disorder, depression, suicidal thoughts and bipolar disorder.
"Sunshine Clubhouse has really played a major role in my decision to be a social work major," says Anne Therese. When I was a sophomore I took an introduction to social work course and during this course we took a field visit to Sunshine. I remember telling Dr. [JoAnn] Burke upon leaving, that Sunshine was where I wanted my senior field placement to be, and here I am almost through with my internship."
A native of Irvington, Ind., Anne Therese has shared her time at Saint Mary's with her sister Rachel '07, and a life-long friend, Gracie Deery '09. She and Gracie have been roommates for all four years. They also traveled together, studying abroad during their sophomore year.
"The studying abroad experience truly changed my perspective of different cultures and the life I lead in America. Being on my own for an entire semester was such a beautiful adventure and an empowering experience," says Anne Therese. "I traveled to a few different places in Ireland and also to London with a small group of friends. To this day those three girls are my closest friends at Saint Mary's."
Anne Therese credits the dedication of her professors for helping her to become the best student she could be, describing Dr. Burke as a constant, encouraging fan in her corner. "When discussing different options regarding my future she shared her thoughts and opinions, but never once discouraged any idea I shared with her. Dr. Burke has truly touched my heart in many ways and I will always be so grateful for her continuing support."