The Arts and Law
The Arts and Law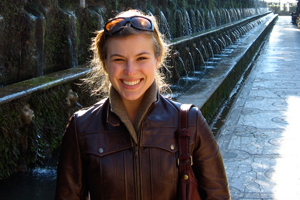 Kelly Ann McMaster '10 has traveled around the world, but has found her place at Saint Mary's College. Her senior year of high school she studied abroad at Oxford University in Oxford, England. While there she says, "I learned that I had a passion for law." Saint Mary's not only allowed her to pursue a major in political science, but gave Kelly a chance to study abroad once again, this time in Rome, Italy where she gained such an appreciation for the arts that she decided to add studio art as her minor.
Kelly was originally a student at a West coast university. She chose to transfer to Saint Mary's because of the smaller size and close community of the College. "I wanted to gain a more personal education," she says. Kelly points out that professors here are focused on helping and directing students with their classes. She names Patrick Pierce and Bill Sandusky as two of the most influential professors in her career here at Saint Mary's. "Both professors have altered me as a thinker," she says.
One of the College's goals is to create well-rounded educated women through the liberal arts program. Because a liberal arts education includes a variety of classes in addition to core classes, she credits the College for both preparing her for her future and giving her an outlet after spending her day in political science classes. Kelly says, "Art is my favorite class because it is my release from the stresses of the day and allows me to express myself."
Kelly is not only active in the Saint Mary's community; she also gets involved in the community at large. She interns at New Galleries in South Bend and is team leader for Take Ten, a program that teaches children the skills needed to resolve conflicts in a non-violent manner. She is also a participant in the Notre Dame Pre-Law Society. This past year one of her drawings of the image of Christ as it appeared to Saint Maria Faustina was published in London and put in one of the books from the "Sermon in Sentence" series. Here at Saint Mary's, she is a member of the Italian club and a student assistant in the political science department.
Kelly is glad that she chose to come to Saint Mary's. Not only has it provided her with a personalized learning environment, it has prepared her for her future. "I could not be happier with my decision to join the community of Saint Mary's."
—Lauren DeBruce '11