Political Science Major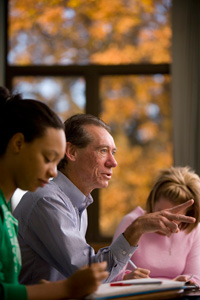 Few areas of human activity have greater potential and the power to directly shape the lives and fortunes of individuals and societies than does politics. More and more career opportunities have developed in government from the local to the international level and in related areas in the private sector. 
The Department of Political Science, in conjunction with the Department of Education, offers courses leading to state licensing for history/social studies.
The Experience
The program introduces you to the major techniques of the field, and to provides a background in the broad flow of concepts and developments of both Western and non-Western political theories. Choose from a number of concentrations of study in the major including American politics, international relations, comparative politics, and political theory and methodology.
The Requirements
Directly explore the political universe and apply concepts learned in classes through fieldwork, the Washington Semester program, internships, offerings in the Rome and other off-campus programs. Courses leading to state licensing for history/social studies are available if you are interested in becoming a teacher.
The Writing
Writing proficiency is critical in today's job market. Submit a portfolio of papers from courses for evaluation by the political science department. Demonstrate your skills and an understanding of complex political concepts in your senior year with a major research paper, which fulfills your senior comprehensive requirement.
The Results
Studying politics prepares you for a variety of career choices. Graduates work in business and government, from the local to the international level. They're teachers, lawyers, and journalists. Alumnae have also pursued graduate studies at well-known universities.