The Play's The Thing
The Play's the Thing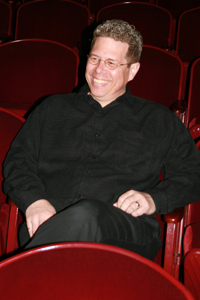 Sometimes it takes a life-changing event, to well, change your life. For theatre professor Mark Abram-Copenhaver, it was a heart attack. Abram-Copenhaver, an associate professor in theatre , and his wife, Jewel, previously owned a performing and visual arts school outside of Philadelphia. The stress of owning a business and the subsequent heart attack led them to sell their business and come to Saint Mary's.
Abram-Copenhaver has taught a number of theatre classes at Saint Mary's including audition, stage management, musical theatre, children's theater, stage combat, directing, introduction to acting, theatre history, stage makeup, and play analysis –
his favorite class.
"It's a great intellectual challenge and it is very rewarding, in that when you analyze a play effectively, the play breaks open and gives up its mystery, and you understand what it is that makes it work. It's the difference between driving a car and knowing what makes a car work," explains Abram-Copenhaver.
Theatre students work closely with faculty, according to Abram-Copenhaver. "We work for three hours a night, five days a week for six weeks with a group of students on the production of a play, and then often we meet with those students during the day as they prepare their roles, so there's lots of mentoring that goes on in that kind of way."
Abram-Copenhaver stays connected to the local theatre as well. He is a production manager for the University of Notre Dame Shakespeare festival, and the Notre Dame opera. He works for his church, Clay United Methodist in South Bend, teaches an acting class at the Juvenile Justice Center, and recently directed South Bend Civic Theatre's (SBCT) production of "Death of a Salesman." Abram-Copenhaver also serves as vice president of the board of directors at SBCT.
Abram-Copenhaver is working on a book for those interested in a career in theatre. The book includes interviews of actors at various stages in their career, focusing on, "what it is like to be an actor."
Of his own advice to students, Abram-Copenhaver says, "You get out of school, and you can you can see what you want in the future, and the only thing that I can tell you for sure is that the line between where you are now and that goal will not be straight. It's going to wander all kinds of places that you don't expect it to go. And you may end up doing some things that don't seem related but as long as you stay attentive to your goal, all of that experience is going to contribute. So when you want to be acting on stage, but you find yourself cleaning coffee pots in the lobby, it's still getting you there. That's part of the meandering of the path that is taking you toward your goal."
Abram-Copenhaver likes the creative freedom to do particular shows, and to teach a variety of classes at Saint Mary's. He also enjoys working with the students. "After I'd been here for a couple of years, I thought, what could be better than to spend your day with very bright young people who want nothing more than to try to do what you love to do?"