Theatre Major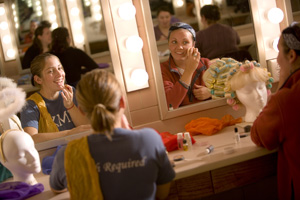 Theatre! Said with an exclamation point! Dig deep within yourself, pull out the emotions and stories that your audience will enjoy, and leave it all on the stage. Learn to translate emotions and inferences into settings, scenery, and other production nuances. 
The Experience
Explore three basic areas of theatre, its historical and literary foundations, the techniques of translating theory into action, and the translation itself, production. Analyze plays, acting courses, voice and movement lessons, stagecraft and directing. Take masterclasses from famous and influential industry leaders through the Margaret Hill Visiting Artist Series, which brought us Sigourney Weaver and Audra McDonald, among others.
The Requirements
The theatre program focuses on technique, blended with the study and analysis of literature through performance. Understand how theatre illuminates and interprets human existence. Your senior year, you'll choose a one-act play to research and analyze on literary and theatrical levels. Then you'll serve as director and designer as you produce the play in a live performance.
The Writing
In your senior year, you'll submit a portfolio of papers for your advanced writing proficiency requirement. The papers include an analysis of a one-act play, along with two other papers.
The Results
At its core, acting is figuring out why people do the things they do. It's also about clear communication and thinking creatively--valuable skills in any industry. Become an actress, a playwright, or a production manager. Expand your reach and be a contract negotiator, a teacher, or an advertiser. Graduates have pursued advanced degrees from the University of Illinois, the University of Notre Dame, and Villanova University.