Thinking of Others
Thinking of Others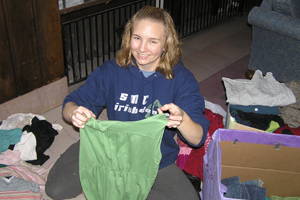 Kristin Hingstrum prepares clothes for St. Margaret's House
Graduate Kristin Hingstrum '09 saw a need in the community and met it. The native of Fulton, Ill., and members of Psi Chi, the national honor society for psychology, collected clothing for St. Margaret's House, a women's day shelter in South Bend. "It is a positive place for women and we wanted to add to that," describes Kristin. "We wanted to help provide for the House, so that it can continue to be successful in its goals of helping women of the community."
Kristine graduated summa cum laude with a double major in studio art and psychology . She was inspired to come to Saint Mary's by her mother, alumna Shawn Foley Hingstrum '72. "My mother got me interested and when I came to visit I liked the friendly atmosphere," says Kristin.
In addition to Psi Chi, Kristin was a member of the art club, and Saint Mary's Irish Dance club all four years, acting as president for two years. She volunteered at Reins of Life and she was an intern at the Robinson Community Learning Center after school program. In 2007 she participated in the European Summer Study Program with Dr. Dave Stefancic. Kristin took a psychogeography course, developing maps as their art project in book form. "To know that we, even here in Indiana or the Midwest, USA, can and do, thanks to Saint Mary's study abroad programs, make marks on the other side of the world is awe-inspiring."
Kristin's list of professors who challenged her intellectually and spiritually include Sandi Ginter and Kelly Harrington. She also credits Dr. Catherine Pittman, psychology professor and her advisor, for inspiring her to pursue a career in social work, working with children and art. "She is the one who helped me find a direction in my life," says Kristin who plans to attend graduate school for social work or art therapy. "I have learned to reach for new levels of achievement and goals here. I look at the future now with excitement and I feel prepared to handle anything that might happen."