Worker Bee
Worker Bee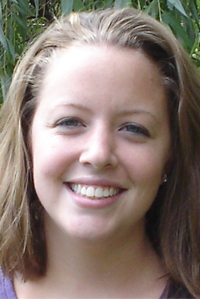 Social work major Jenn McLean is busy. She is the Student Academic Council (SAC) representative for social work. She is a Social Work Advisory Board Member. She participates in the Social Work Club. She organized a senior panel of social work majors to assist juniors. She helped organize a trip to El Salvador last fall. She helped organize events surrounding Social Work Week. And she's not slowing down.
McLean '08 has been nominated for the student social worker of the year award through the National Association of Social Workers. "She has done an outstanding job as our SAC representative this year," comments JoAnn M. Burke, associate professor and chair of the department of social work. McLean's SAC work included organizing events on and off campus for students of all majors, bringing speakers to campus, and having social events to draw recognition to the department, and students to the major.
In addition to her work locally, McLean spent a year studying in Rome, and more recently, seven days over fall break in El Salvador. "The purpose of the trip was to learn about social work in a more global perspective," explains McLean of her trip.
Originally from Pittsburgh, Pennsylvania, McLean heard about Saint Mary's from a very reliable source – her mother. Both her mother and her mother's twin sister attended Saint Mary's. McLean visited during her senior year in high school. "I fell in love and never looked back."
When asked about the benefits of attending Saint Mary's her answer was simple: "What isn't a benefit? Small classes, small campus where people know your name, professors that know you, not only on a student-professor level, but they know you personally," comments McLean. She counts her parents as mentors in life, but at Saint Mary's she looks to professors JoAnn Burke, Francis Bernard Kominkiewicz, and Sharon Mayer. "I have developed a strong relationship with all of my professors and always run ideas past them, or just drop by their office to say hello."
McLean cited the chance to grow and succeed as other benefits. "Saint Mary's College has prepared me well, and has opened doors for me to do new and exciting things next year in graduate school, and in years to come." McLean plans to enter the University of Pennsylvania's master of social work program. She has received advanced standing and will hold her degree in two and half semesters.
McLean enjoys hanging out with friends, playing basketball, reading and watching "her shows" – any and all specials on crime and investigation, and the news. "I don't really have much free time," says McLean. "But when I do, I like catching up with my family."