Write Now
Write Now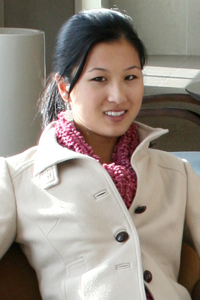 It's a truth that can't be denied: the intimacy of Saint Mary's campus and its physical beauty are draws for students from all over the country. This is what drew Naples Fla., native Jessica Huang '09 to the College. "I was attracted to Saint Mary's because of its small liberal arts setting and beautiful campus." Huang says the best part of being a student at Saint Mary's is the "small classroom size and professors that genuinely care about their students."
Huang is an English writing major who looks to professor Ted Billy as an excellent teacher and mentor. "He imparts 100% of his efforts towards the improvement of students' analytical and writing skills with a positive attitude that lightens the mood and spirits of the entire class."
When it comes to favorite classes, Huang was hard pressed to single out any to the exclusion of others. Still, she speaks highly of a class outside her major. "I thought American popular music was a challenging and highly educational course on our culture and history through the lens of chart-topping songs."
In addition to her classes, Huang stays active as an assistant in the English literature and writing department, and she is an intern for Courier, the alumnae magazine. She also works at Ave Maria Press, as an administrative assistant and she is the editor-in-chief of the Avenue, a student publication. Huang also volunteers at Healthwin Nursing Home. All of these activities come just one year after studying abroad in Haifa, Israel, during her junior year.
"I returned from Israel more open-minded because of my exposure to such a vast array of people coming from diverse cultural and religious backgrounds," says Huang. "I gained a deeper understanding that despite our differences, people from all corners of the world have more in common than expected. Studying abroad also taught me to always be willing to learn something new from anybody or situation I may encounter."
Huang's future includes looking into magazine or book publishing, or possibly working for a marketing firm. She's also considering graduate school after a few years in the work force. Whatever she decides to do, she'll be prepared. "Saint Mary's has provided me with a network of caring faculty, administrators, and students that have supported every effort I've made toward success in my courses, study abroad, and career quest."