Writer's Way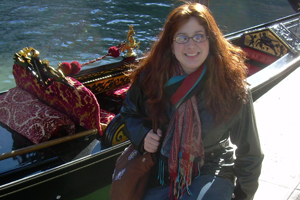 Like many Saint Mary's students senior Desiree Fischer says falling in love with the campus helped her to choose Saint Mary's as her college. But the potential for studying abroad didn't hurt either. "The Rome program also helped me to decide," says Desiree.
The English literature and English writing major studied abroad in Rome during the fall of 2007. "Studying in Rome deepened my faith and helped me grow in independence as a world traveler," says Desiree.
Desiree is an apprentice writer, working with Mark Abram-Copenhaver, an associate professor in theatre. In addition to learning about the "mysterious world of theatre," she says, "I've learned a lot about the work that goes into actual publication." Desiree was also a teaching assistant for Professor Carla Johnson, something that she says will help with her future goal of teaching high school or middle school English.
Desiree's interests outside of writing include volunteering with Relay for Life - an event that has a special meaning for her. "Mom is an eight-year survivor or leukemia," says Desiree. She also worked on a Child and Parent Services (CAPS) video.
What makes Saint Mary's special for Desiree are the friends she's made, and the writing program, something she says has helped her to become a much better writer. "I was looking at some of my old work the other day and I hardly recognized it," says Desiree. "I cannot believe how much I've improved."