Mary Bevilacqua creates her own dual degree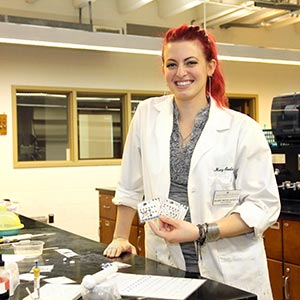 Mary Bevilacqua '13 holds paper analytical devices, or
PADS, that she helped develop with chemistry
professor Toni Barstis and other students.
Mary Bevilacqua seems to have been destined to earn bachelor degrees in biochemistry and studio art. As a baby, her dad, then an assistant professor at Harvard Medical School, recited biology lectures to her instead of nursery rhymes. As a toddler, her mother challenged her to draw pictures out of letters to keep her occupied at restaurants.
A true Renaissance Belle
"I hadn't realized my interests started as a kid until people started to ask me about it," says Mary.
Whether it's genes or upbringing Mary sees science through the eyes of an artist, and vice versa. She believes her two degrees make her a true Renaissance woman.
"A Renaissance person wasn't considered fully educated unless they had backgrounds in science and art. They were not considered separate disciplines as they are today."
Mary embodies the value of studying the liberal arts. "My goal coming to Saint Mary's was that I wanted to have that broad education, and I think it's really important to anyone, no matter what field you pursue."
"I couldn't see myself without the both of them," Mary said of chemistry and art. "Chemistry and art have a connection in the brain. Biochemistry focuses a lot on visualization."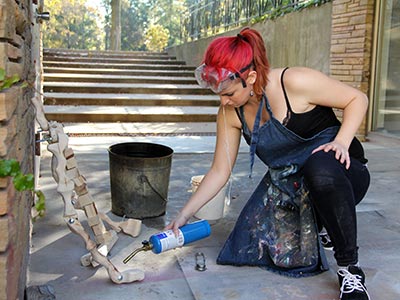 Mary Bevilacqua uses a torch on one of her art projects.Chemistry
through an artist's eye
If you can't find Mary in the studio, you can find her in the lab. She's a researcher with the Department of Chemistry and Physics' paper analytical devices (PADs) project. Researchers, led by Saint Mary's chemistry professor Toni Barstis and in conjunction with the University of Notre Dame, developed inexpensive PADs to identify counterfeit pain relievers, antibiotics, anti-malaria drugs, and influenza medicine. Each PAD allows a chemical reaction to indicate if a drug has authentic ingredients. This groundbreaking research could benefit developing countries where counterfeit drugs are rampant.
In fact, Saint Mary's filed for its first ever patent in the fall of 2012 for the PAD and recently applied for a second patent for an enhanced PAD. The enhanced pad is the invention of Barstis and Mary Bevilacqua '12. The fabrication uses what Bevilacqua calls the "capillary method" to enable safe handling of harsher chemicals needed to screen certain pharmaceuticals. Each capillary, or thin tube, in the PAD holds a chemical, which is released when the user bends the PAD, breaking the capillaries. Bevilacqua says the idea was inspired by glow sticks, which are activated after you bend the stick, breaking a capillary inside.
"My goal was to adjust the PAD to meet the needs of the chemistry," Bevilacqua said. Like the original PAD, the device is user-friendly, inexpensive, and effective—all qualities necessary for the device to be viable in the marketplace.
Barstis sees firsthand how the two disciplines enhance Mary's skills as a researcher and a chemist. "Mary solves each problem using a creative, thoughtful, integrated approach. By thinking outside the box, she integrates her knowledge of chemistry with that of design to create a functional (paper analytical) device."
Mary currently works as an independant consultant for biotechnology and pharmaceutical companies, producing scientific writing, illustration, animation, and design. She plans to get her graduate degree in biomaterials starting next fall.
"The first thing people ask when I talk about my degrees is, what are you going to do with that? People think I need to fit into a box or a bubble that will perfectly fit both of them, but for me, it doesn't limit my options. It expands them," Mary says.
~Ambreen Ahmad '13