Donor Recognition Weekend Madeleva Society
The Madeleva Society - Ensuring Excellence
The Sisters of the Holy Cross founded Saint Mary's in 1844 with a mission to educate the mind and the heart. They built a college for young women to sharpen their minds, deepen their faith, and strengthen their characters. Sister M. Madeleva Wolff, CSC, was a visionary, an educator, a poet, and a woman of deep spiritual conviction. In her 27 years (1934-1961) as president of Saint Mary's College, she put each of those gifts to good use leading Saint Mary's to national prominence as a premier Catholic liberal arts college.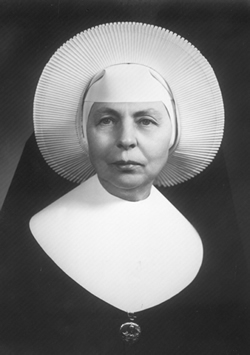 Sister Madeleva once said that her best qualifications for leading Saint Mary's were "my ability to dream, my capacity to work." Those values became more than the hallmark of her tenure; they have become the guideposts for the College. We continue her visionary work with the help of The Madeleva Society, a distinguished group of alumnae, parents, and friends who step forward each year to support Saint Mary's.
Since its founding in 1979, members of The Madeleva Society have contributed over $70 million to Saint Mary's. Last year alone, 914 members contributed $5,705,509 to the College, representing 77 percent of the total dollars raised during the 2010-2011 fiscal year. Unrestricted Annual Fund gifts from Madeleva Society members totaled $1,637,073 and made up 63% of all gifts to the Annual Fund.
With continued support at this leadership level, the College will be able to offer more financial aid, research opportunities, chances to study abroad, and cutting-edge curricular options to ensure the educational excellence of a Saint Mary's education.
To learn more about the Madeleva Society and the Annual Fund, click here.