Working for Women: Women's Entrepreneurship Initiative (WEI)
Women business owners and those thinking about starting a business have found another source of support in Saint Mary's Women's Entrepreneurship Initiative (WEI). Saint Mary's received a $245,000 federal grant in October to help support women entrepreneurs and business-minded women in the South Bend area. WEI hit the ground running, working with women business owners, and hosting a seminar, Personal Financial Strategies for Business-Minded Women, this spring. "The spring seminar was what I would like to call 'our grand opening,'" says Martha L. Smith, Project Director for WEI. "We had 35 women attend our first seminar. They provided us with invaluable input as to what they would like to see in future events."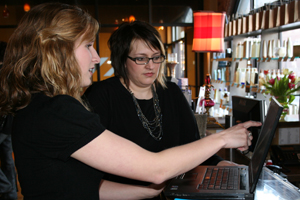 Alumna Kathleen Mills '10, left, consults with Sonia
Stancombe, owner of Nicholas J Salon and Spa in
South Bend. Kathleen recently made a breakthrough for
the business when she figured out how to get the business's
sales program to communicate with the accounting software,
saving the owner several hours of work a week.
In a win-win situation, Saint Mary's students are both assisting and learning from the initiative. As part of a new Small Business Consulting course, teams of students have met with owners of local businesses. A fall semester course called Small Business Accounting Systems is planned, giving students the opportunity to offer accounting assistance to businesses.
Alumna Veronica Valdez '10 is spending time in the WEI office this summer, working with individuals from the Hispanic community in developing their bookkeeping skills. Valdez, who is bilingual, says "The individuals that I am working with have not mastered the English language and I am able to help them learn more business skills because I can communicate with them in their native language."
An entrepreneurship conference is planned for this summer as well as State certification workshops. "The workshop will be a hands-on program to assist women business owners in the completion of the application for the State of Indiana Minority (MBE) or Women (WBE) Owned Business Certification," describes Smith. In October WEI will host the Latin Conference 2010 – A Celebration of the Entrepreneurial Spirit.
Mass communications major Hannah Hupp '12 will return to campus in the fall as the president of the Collegiate Entrepreneur Organization, acting as a liaison between the students and small business owners working with WEI. "In the fall I hope to work personally with women small business owners in the community. I think that the student can learn so much from a successful woman, and as current students, we can update business owners on skills they are probably not familiar with such as online tools and social networking."
In less than a year WEI has provided assistance to local businesses, while preparing students for the business world. "Our goal is to see more businesses start, grow, and develop, and ultimately impact our local economy in a positive way," says Smith.