Alumnae-Senior Champagne Brunch: Celebrating a New Connection
Members of the Class of 2011 were welcomed into the Saint Mary's College Alumnae Association on May 16 at the annual Alumnae-Senior Champagne Brunch. The event celebrated the seniors' new bond with Saint Mary's as alumnae instead of students.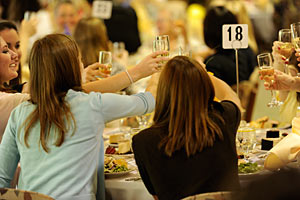 Seniors raise their glasses in a toast during the annual
Alumnae-Senior Champagne Brunch on May 16
in the Student Center.

"Their relationship with Saint Mary's is lifelong," said Kara M. O'Leary '89, director of Alumnae Relations. "We want to celebrate their accomplishments with them, share news about them with their classmates and other alumnae, and invite them to come home as often as possible. No one can preserve the legacy of Saint Mary's better than her alumnae, and it's important for each graduating class to learn this."
The brunch, one of the association's oldest traditions, dates back to the 1930s. It has taken on several forms, ranging from a tea to a reception to the current event that started in the 1980s. The brunch has become increasingly popular in the past few years, and this year's attendance—70 percent of seniors—was excellent, O'Leary said.
President Carol Ann Mooney kicked off the celebration by lifting a champagne glass to toast the class. Molly Gorszczyk '11 and Colleen Lowry '11 presented the senior class gift—a clock for the lounge in Spes Unica Hall. "The clock would serve as a memory of our time here at Saint Mary's and remind future generations of Belles that they cannot take their precious four years here for granted," Lowry said.
Abby Van Vlerah '04, secretary of the Alumnae Association Board of Directors, presented the Outstanding Senior Award to Emma Hoffman '11. The award recognizes a senior who has demonstrated outstanding devotion to Saint Mary's. "Emma's life is an example of how the heart can expand through learning, faith, and by answering the call to serve her College and humankind," Van Vlerah said.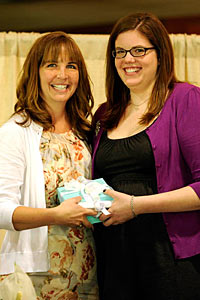 Abby Van Vlerah '04, left, presents the
Outstanding Senior Award to
Emma Hoffman '11, a biology major
from Oak Forest, Illinois.

Among other activities, Hoffman served with Campus Ministry, Student Government Association, and Sophomore Class Board. This year she held the prestigious role of student trustee on the College's Board of Trustees. For her senior comprehensive research project, Hoffman, a biology major, tested a water purification system on Little Corn Island, Nicaragua. She forged relationships with the community and, ultimately, decided against pursuing a career in medicine as she'd planned.
She explained her change of heart in a speech at the brunch: "I learned that helping those in need in combination with my scientific background gave me a sense of fulfillment," she said. Her plan is to pursue a career in environmental health and conservation.
"I view Saint Mary's as my base camp where I learned the confidence and leadership skills necessary to venture out into the world," she added. "I am so grateful that my education allowed me to explore my strengths and areas for growth."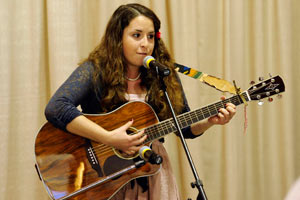 Katherine Kohler '11 peforms her song "Hello Instead."

Toward the end of the program, Katherine Kohler '11 gave a musical gift to her class by performing "Hello Instead©," a song she wrote about her experiences at Saint Mary's and the difficulty of saying goodbye. Her lyrics reflected the essence of the celebration:
These years will carry me far,
I'll set sail for the possibilities
Let's stay friends wherever we are.