"Open Your Hearts and Your Minds to Discovery"
As the 2011-2012 academic year begins, a familiar face assumes a new role of service at Saint Mary's College. Sister Veronique Wiedower, CSC, became vice president of the Division for Mission on June 1 and is eager to begin her full duties as the campus community reconvenes.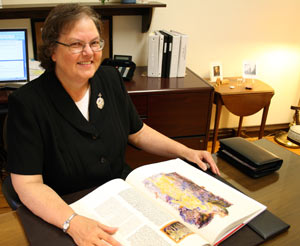 "It is a joy and a blessing to serve a community that I have loved for so long," says Sister Veronique '70. "Saint Mary's is about educating not only the mind, but also the heart and spirit. In the Division for Mission, it's our honor and our calling to walk with other members of the Saint Mary's community as together we open our hearts and our minds to serve as Jesus did."
Sister Veronique holds a bachelor's degree in music from Saint Mary's and a master's degree in theology with a focus on liturgical studies from the University of Notre Dame. In 2009, she joined Campus Ministry at Saint Mary's, where she oversaw music and liturgy. She is a former member of the Saint Mary's College Board of Trustees and also served on the Congregational Leadership Team of the Sisters of the Holy Cross. Click here for a press release about Sister Veronique's appointment.
As the new school year starts, Sister Veronique offers these words to the College community, especially new students:
One of our most dynamic College presidents, Sister Madeleva Wolff, famously said, "We promise you discovery." And that is true today. Life here is about discovery, it's about growing, it's about creativity and imagination. It's about using all those gifts to build up the community and to make a positive difference in our world. My hope, my wish, is that you open your hearts and your minds to discovery.
And as you leave Saint Mary's, know your mission continues wherever life leads.
May God bless us as we start this new school year.