Wireless
Saint Mary's has built an extensive wireless network in addition to standard high-speed wired network services. The "BelleAire" wireless network is available to all students, faculty, and staff with a wireless enabled notebook computer. The BelleAire network is also available to guests of the campus between 8am and 6pm.
BelleAire supports 802.11b (WiFi) and 802.11g wireless speeds and is a fully secure and authenticated network service to the campus.
See the chart below to find out where wireless networking is available to you today! More information connecting to BelleAire can be found by clicking this link.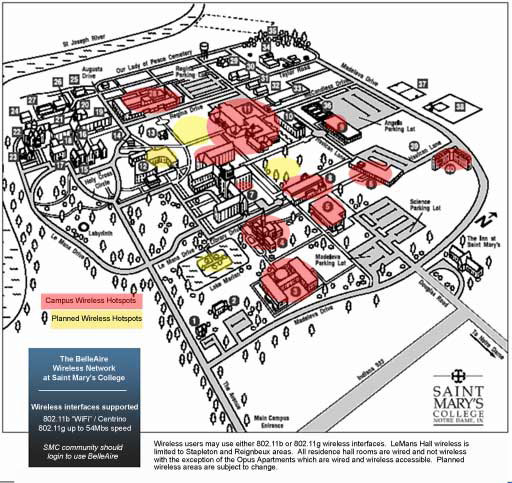 Only public areas are covered by wireless hotspots since students have faster wired connections (100Mbs) in their residence areas (with the exception of Opus Hall). Areas in Le Mans, Regina, and Holy Cross covered by BelleAire are in 1st floor public and classroom spaces.