Accounting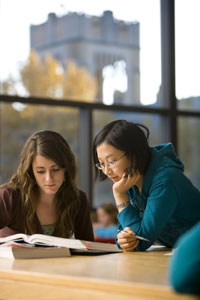 Experience business in the real world in Saint Mary's accounting program. Professors contribute stories about their own work experiences to make concepts interesting and pertinent. They take you into the field to experience corporate offices and meet with recruiters. Most years, 100 percent of accounting majors are offered jobs before graduation.
Professor Mary Ann Merryman stays in communication with her students long past their graduation."You develop those long-term friendships and relationships," says Merryman."I've been here for 25 years and I'm still very close to those alumnae that I taught in my first few years here. I don't think that happens at all institutions."
Writing in the major
Learn to effectively communicate with a variety of audiences and distinguish yourself as a skilled business writer through your senior advanced writing proficiency requirement. You'll submit a portfolio of three papers from business courses, at least one of which should come from an accounting class. You'll be able to use this work to demonstrate your knowledge to prospective employers and for graduate school applications.
Senior comprehensive examination
In your senior year, you'll take the B.B.A. comprehensive examination formatted as a case study. As part of a team of students, you'll prepare a case report, give an oral presentation, discuss your results, offer recommendations, and answer panelists' questions about your presentation. It's an integrated learning experience that tests technical competencies, problem-solving skills, and analytical skills, as well as awareness of ethical issues, communication skills, and quantitative skills.
Hands-on learning
As an accounting student, you can speak with accountants and recruiters from top firms in Indianapolis or Chicago during the annual managerial accounting field trip. You can begin networking with professionals while you're still in college through the alumnae networking system.
Careers
Imagine working for some of the largest U.S. companies such as Ford, Johnson & Johnson, and Zimmer; and top international accounting firms, such as Deloitte & Touche, Ernst & Young, KPMG, and PricewaterhouseCoopers. Numerous alumnae hold top-level executive positions in these companies and firms.