Management Concentration - Business Administration Major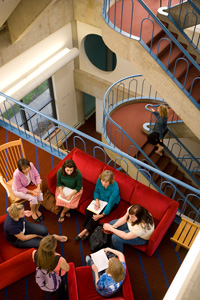 Never before has there been a more dynamic, innovative, opportunity-rich time to pursue a career in business and business-related fields than there is today. You'll gain a strong foundation in the necessary principles and practices of business management and be prepared to make an immediate impact upon graduation.
The Experience
The management program blends valuable classroom instruction from faculty who bring extensive real-world business experience with an abundance of opportunities to apply what you learn in real, meaningful ways. 
The Requirements
The program curriculum covers all aspects of business administration, plus aspects of management, including human resource management, gender and race issues in management, international management, new venture, and small business consulting. In your senior year, you'll take the BBA comprehensive examination, which will test your technical competencies as well as your communication, analytical, quantitative, and problem-solving skills.
The Writing
As part of the program's advanced writing proficiency requirement, you'll submit a portfolio of three papers from business courses with at least one coming from a management class. The ability to write as a business professional is critical. The emphasis we place on developing your writing skills will demonstrate the breadth of your skills and talents to prospective employers and graduate schools.
The Results
You'll find our graduates at places like Deloitte, Ernst & Young, PricewaterhouseCoopers, Groupon, Vera Bradley, and Eli Lilly and Company. And they've been accepted into graduate programs at Loyola University Chicago, Villanova University, and the University of Notre Dame.