Business Administration Concentration in Management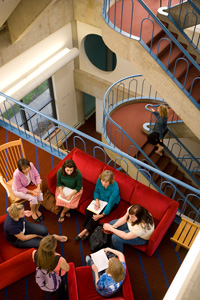 As a business major, you will develop strong quantitative, problem solving, communication, and interpersonal skills while exploring international business and learning to become an ethical leader in the workplace.
In pursuing a Bachelor of Business Administration degree, as a major in business administration, you can choose a concentration in management.
"Saint Mary's offered the nurture and support that allowed me to achieve higher goals, achievements, and personal development. Professionally, I feel that the education received in accounting was excellent, creating a framework of concepts to be remembered when studying for the exam. I feel that I would not be the articulate, confident woman I am if I had not attended this college." —Anna Gilsinger-Marshall '06
Writing in the Major
To satisfy the Department of Business Administration and Economics Advanced Writing Proficiency (grads call this "getting their 'Advanced W'") requirement, you must demonstrate writing proficiency in your chosen discipline. This requires you to compile a portfolio of three accepted papers from department courses. For a business administration major, at least one of the three papers must be in a course in your concentration.
Senior Comprehensive Examination
In accordance with the policy of Saint Mary's College, a comprehensive examination is administered to all students during their senior year. The Comprehensive Examination gives you a chance to demonstrate competence in your chosen major and concentration. Since the examination is given in January of the senior year, you are encouraged to complete as many major requirements as possible by the end of the first semester of your senior year.
Hands-on Learning
Faculty members have all worked outside academia, and bring real-world experience and expertise to their teaching. Small class sizes mean more one-on-one attention and allow you to form close ties with faculty and fellow students. Business majors undertake internships with a multitude of companies, both paid and for academic credit. Saint Mary's alumnae have outstanding career opportunities in the business world, assuming high-level leadership positions in a variety of organizations.
Careers
Saint Mary's alumnae are employed by a great number of internationally known corporations, such as Nabisco, Eli Lilly, Hormel Foods, Bank of America, Reader's Digest, State Farm Insurance, Xerox Corporation, Dun and Bradstreet, United Airlines, KPMG Peat Marwick, General Electric, Ford Motor Company, and IBM.