Student Profiles
Building on Fashion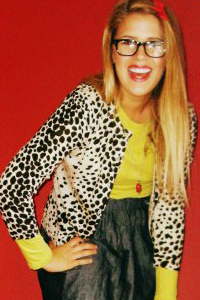 With a major in mass communications and minors in dance, Italian, and public relations, Sharon, Pa., native Christina Grasso looks to a future of her own design in the fashion industry. In the meantime she's knitting together a quality education supplemented with all that Saint Mary's has to offer.
Saint Mary's came highly recommended—by Christina's sister, Natalie Grasso '08. But the College was also everything that she wanted: small, private, Catholic, safe, and beautiful—part of a list that goes on says Christina. "It was a leap of faith, but I could not imagine having my college experience anywhere else."
Christina has made her own way at Saint Mary's; she is a member of the Junior Class Board, Dance Company of Notre Dame, Saint Mary's College Republicans and both the Saint Mary's and Notre Dame Right to Life groups. She has also been active with the Friends with Sisters program, Dance Marathon, and she has studied abroad.
Putting her minor in Italian to the test, Christina studied abroad in Rome during her sohpomore year. "It was by far the best and most enriching experience of my life," says Grasso who had the opportunity to meet the Pope. "My experience in Rome was truly a fairytale and through it I have grown significantly in faith, in self-confidence, and have become a much more worldly young woman."
Two of her professors in Rome made a lasting impression. Mass communications professor Peter Sarram challenged Christina, which she says helped to expand her knowledge and thought processes. Christina noted that Professor Inge Hansen helped her to blossom. "She would take me out to lunch and we would discuss everything from Roman architecture to Coco Chanel. Her classy manner, vast intelligence and eloquent speech truly astounds me and she has become every bit my role model."
Christina's minor in dance has also been nurtured by dance professor and alumna Jaclyn Thompson. "She completely revived my passion for dance and taught me that dance is not about having perfect technique, but simply loving what one does, and I feel this can be applied to any aspect of life," says Christina. "She has so much energy and passion for what she does, and continues to inspire me through her spirit and enthusiasm for doing what she loves even as she has relocated to New York City."
Christina might find herself in New York City someday as she hopes her education will lead her to a career in the fashion industry as a booking editor or fashion editor for a major fashion magazine in the City. "It has been my dream since I was a little girl, and I have made some great connections in the industry that have opened a lot of doors, so I'm very excited to see how things shape up!"
Delivering the Message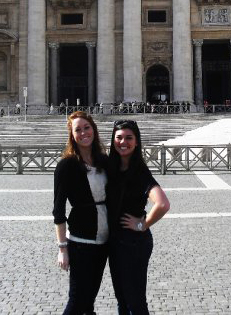 Alexandra (right) and classmate
Courtney O'Neill studied in Rome together.
Transfer student Alexandra Davin is a people person. You can see it in her smile. That's probably what made her transfer from a large university in Pennsylvania, where Alexandra is from, easy to make.
She transferred as a sophomore and says she was glad to have a year at another school under her belt before she figured out Saint Mary's was the place for her. "I knew what I liked and didn't like about college life and was so impressed with what Saint Mary's had to offer," she says.
So far the College has offered Alexandra engaging classes, study abroad in Rome, a position in student government, and a position as a writer for the student-run Bellezine magazine. Her academic and personal interests are largely social, beginning with her chosen major in communication studies.
Alexandra is also working toward a minor in public relations and this summer she's putting her knowledge to the test as an intern with the Pittsburgh-based LarsonO'Brien Marketing Group. She's working hand-in-hand with marketing and PR agents on campaigns for the company's clients in the building industry.
It isn't Alexandra's first venture into the world of mass communication. She also interned for the College's Student Affairs office during her sophomore year. She worked on the Operation Diploma campaign, a program that offers financial assistance for education to female veterans. Alexandra carried out extensive research for the project and planned on-campus events to publicize the program.
Her internships, in combination with her coursework, add up to a lot of hands-on experience. "Saint Mary's has been so helpful in preparing me for my career. I am a definite 'people person' and love to work with others in a public setting. The communication department here offers a minor in public relations and it really specializes in field preparation," Alexandra says.
Ultimately, this social student feels she made the right choice in coming to Saint Mary's. And she has a large circle of supportive new friends to prove it. "I love spending time with my friends and family in my spare time," she says. And that inspires her appreciation for the Saint Mary's community. "The students here can easily form connections with one another and they are unbelievably friendly and welcoming." It's the ideal place for a "people person" like Alexandra.
Taking Initiative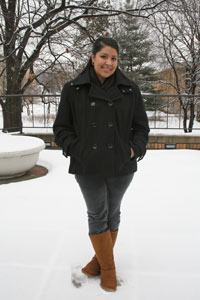 Danae on a snowy day
Sophomore Danae R. Jimenez was destined to be a Belle. The Defiance, Ohio, native was looking for a college with small classes, a one-on-one connection with professors, and an opportunity to explore her faith. She got it all at Saint Mary's.
"[The College] has impacted me in a way that I was not expecting," Danae says. "Saint Mary's has made me aware of what I truly believe and see as valuable in life." As a sophomore, Danae has explored her many passions. Following her faith, Danae quickly engrossed herself in Campus Ministry as a lector, Eucharistic Minister, Liturgical dancer, and Peer Minster. 
Danae didn't stop there. She is taking advantage of many other opportunities at Saint Mary's. She became a member of the Student Diversity Board (SDB) as a first-year student and is now the vice president. She also attended her first Diverse Students' Leadership Conference (DSLC). Danae says the conference "brought awareness to issues that aren't always addressed." The following year she became Chair of the DSLC. She worked with a committee of fifteen women to put together the conference.
Danae got involved in College diversity initiatives because she believes diversity is important "because no one is ever the same—having the ability to learn about others can enrich a person's life in the short and long run."
Being a part of the SDB and DSLC has greatly impacted her life. She has learned to step out of her comfort zone and become a leader. By pursuing her interests, Danae has not only made great friends, but also discovered where her future lies. She is working toward a double major in speech communications and theatre with a minor in women's studies. After graduation, Danae plans on working for a theatre company.
Though she stays busy with classes, homework, and clubs, Danae keeps in close contact with her family. They have inspired her to work hard and continue reaching for her dreams. As one of the few members of her family to attend college, Danae works hard and takes advantage of the many opportunities Saint Mary's has to offer.
"My favorite aspect of Saint Mary's is being able to get to know your professors and forming tight bonds with the girls that you meet," she says. "I have made some really great friendships—they make Saint Mary's feel very comfortable and like home."
—Sarah Sheppard '11
Getting the Story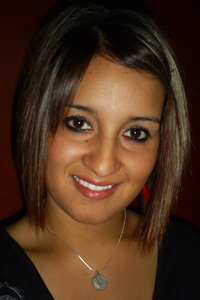 Future reporter Areli Bautista can get her story in English and in Spanish. The communication studies and psychology major says that her favorite class was "Introduction to Communications" with Professor Terri Russ. "I had a great experience throughout this course. The assignments that Professor Russ gave throughout the semester made the class very interesting," explains Areli. "I had the opportunity to interview a famous Hispanic reporter from Univision, a Spanish-speaking [television] channel. It was a great opportunity because I gained knowledge of what a reporter's career consists of."
Areli says the best part of being a Saint Mary's student is the one-on-one relationships she can develop with professors, and Professor Russ is just one example. "Dr. Russ is a great professor, not only in the classroom but also outside the classroom. I have met with her during her office hours and she always made sure that I understood the material correctly, and if I had a problem, she always made sure to make it clear.
During the summer Areli volunteered at local nursing homes near her hometown, Warsaw, Ind. On campus, she stays busy with the Student Diversity Board (SDB) and last year she was the chair for the SDB-sponsored Disabilities Awareness Week. She's now the chair for the Journalistic Relations committee of SDB, and the treasurer for the student club, La Fuerza. Areli is also involved with Campus Ministry.
Even with all that she does, Areli stays focused on her future career goal of working in the media, either as a news anchor or a reporter. "I hope that I can use my first language, Spanish, and do something great in the media!"