Alumnae Profiles
Faith in Action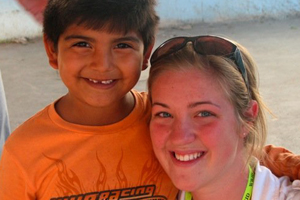 Alumna Megan Ryan's interests run in a number of directions, yet she is quick to say, "I think service is my passion, but I think that it's my spiritual life that guides me." In her junior year at Saint Mary's, the 2009 graduate spent a week in Guadalupe, Mexico, with the Sisters of the Holy Cross. There, she experienced hospitality from the Mexican people, who were living in the most deplorable conditions.
"They had so little, and yet when we would stop to meet them and introduce ourselves they gave us so much. They would invite us inside and feed us with food they had no business giving us. They probably didn't eat for two days because they fed us the food that they probably should have been eating themselves, but they wouldn't have it any other way."
Megan graduated summa cum laude with an elementary education major, and a minor in communicative disorders. She also has a license in corrective reading. Megan points to Karen Van Meter, director of student teaching and field study, as someone at the college who has opened doors for her. "She's so resourceful, I swear she knows everything. I [would] go in to her, ask her a question, she [told] me what I needed to do."
Megan is spending a year in Kasoa, Ghana, teaching at Our Lady of Holy Cross School, run by the Sisters of the Holy Cross. She's there with another graduate, Katie Yohe '09. When she returns she plans to teach in the Fort Wayne-South Bend diocese. "I want to eventually go back to graduate school for a master's in special education," says Megan. Thinking beyond her year of service, Megan has plans to work in her local community. "I have already spoken with the Bishop to create a plan for starting a special education program in the diocesan schools, which we don't have yet."
Megan's interest in service was deepened in her Faith in Action class with Professor Kurt Buhring. "His class fed my desire for service. It made me realize that it's possible to get involved other than just on campus; I can be in the community."
Three of a Kind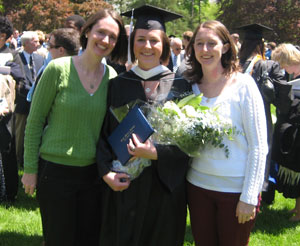 Sarah, Maggie, and Lizzie at Maggie's graduation
from Saint Mary's.The Siefert sisters have the "three Rs"—reading, writing, and 'rithmetic, that is—pretty much covered. All three women, originally from Lisle, Ill., graduated from Saint Mary's. And all three became teachers.

Sarah Siefert Barney '99, who teaches at Niles North High School in Skokie, Ill., was the first of her sisters to graduate from the College. The gregarious high school math teacher made the most of campus life while she was here. "I met some of the most amazing women at Saint Mary's College and have lifelong friendships with these great women as a result." Two of those lifelong friends are her sisters, Maggie Siefert '08 and Lizze Siefert-Reidy '04.

For Maggie and Lizzie, following in their older sister's footsteps just felt right. Having had many opportunities to visit the campus while Sarah and Lizzie were enrolled, youngest sister Maggie says, "The people of Saint Mary's invited me into their school with open arms. They did not judge on the exterior, but appreciated my interior." And she appreciated the welcoming community.

Despite their busy schedules, the three women have nurtured their ties with Saint Mary's and with each other. Lizzie teaches eighth grade math and social studies. Maggie teaches art at Oliver Westcott Elementary School in Chicago. "Even though we teach different subjects, it is fabulous that we can bounce ideas off of each other and learn from one another," says Maggie.

The sisters talk to each other several times a week. "We share classroom stories—Maggie's are usually the funniest. We also support each other in this tough economic climate as school cuts are a reality and teachers are being laid off," Sarah says. These three Belles are bound together as sisters, Saint Mary's graduates, and educators.

—Sarah Sheppard '11