Student Profiles
Teaching Our Future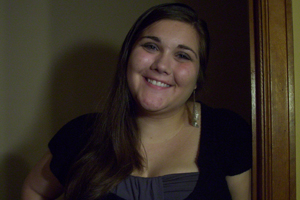 For some students, deciding to change majors can be a daunting task, but not for senior Penelope Trethewey. The process was made easier with the assistance of her professors. "There are so many wonderful faculty and staff members that care about you as a person and like to know about your life and future plans. Many of them have been there for me when I switched majors and felt lost." Now majoring in elementary education, Penelope is quick to point out that she received assistance during the transition from Professor Dale Banks and Karen Van Meter, the director of student teaching.
Penelope was active last year with the Student Activities Board as the school spirit chairwoman. In that capacity, she was involved with fun activities like pumpkin carving, making gingerbread houses, outdoor movies, and planning SMC-Tostal, an event that brought recording artist Sara Bareilles to campus. Penelope was also on the Board of Governance as the health and wellness commissioner. "I brought an alumna back to talk to students, faculty, and staff about balancing our lives," describes Penelope. Of her activities she says, "They were wonderful experiences."
Penelope says the best part of being a Saint Mary's student is the community. 'It's just a place where you can be yourself and find many others with whom you have things in common. People are accepting of your differences and talents," says Penelope. "Saint Mary's gives students the opportunity to show what they can do and to acknowledge their accomplishments."
A student who loves all of her education classes, Penelope says she feels prepared to be a teacher. "I feel it is very important to give the next generation a great education like I received." After graduation the South Bend native plans to become a 4th or 5th grade teacher. "I feel this age is a great time to jump in and help students get ready for the transition to middle school," says Penelope who has observed classes in the three major school districts in the area.
Going into her final year, Penelope says she is happy to have come so far, but sad to have to leave the place she considers home. "At most schools when you graduate you graduate. Not at Saint Mary's. When you graduate from Saint Mary's you will always be a part of something," says Penelope. "Wherever you go, people will know you went to Saint Mary's and will want to tell you about their time there and ask you about yours. It is a never ending family."
Around the World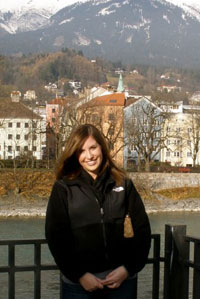 Junior Mary McKevitt has combined her love for dance, education, and culture to make the most of her time here at Saint Mary's. Mary is an education major and is working toward a certificate in special education: mild interventions. She is also an active member of the Education Club, Invisible Children, Best Buddies, and the ND/SMC Irish Dance Team.

Mary learned to Irish dance when she was four years-old and in her first year of college, her sister, Beth McKevitt Knollman '08, was the president of the ND/SMC Irish Dance Team. Mary joined the team in hopes of practicing her passion for dance and meeting women from both Notre Dame and Saint Mary's. Irish dance became a big part of Mary's and her family's life.

The dance team captains held tryouts to compete in the 2010 Club Ceili Competition at All-Irelands. Along with seven other women, Mary was chosen to represent the team in Ireland. During the month leading up to the competition, the women practiced four to five times a week, but the hard work paid off. The ND/SMC Irish Dance Team won first place in the competition. Following their win, "Everything seemed surreal," Mary says. "We couldn't believe we actually made it to Ireland." And they came away winners. Mary says the competition unified the team, allowing them to share in an incredible experience abroad.

Mary also had the chance to study abroad in Rome during her sophomore year. She says, "I wanted to experience another culture and step out of my comfort zone." Rome students take classes in Italian art history, classical archaeology, monument drawing, history of music, mythology, literature, history, international business, journalism, and mythology, among others. They live in the center of the ancient city in the historic Hotel Tiziano. Mary says the experience did much more for her than immerse her in Italian culture. "Studying abroad has allowed me to become more independent and learn more about myself."

This summer, Mary will participate in the Uganda program and travel to the city of Kyarusozi, where she will live with the Sisters of the Holy Cross and work in their ministries. She will teach at Moreau Primary School. When she returns in July, Mary will be a camp counselor at Saint Mary's Fine Arts Camp. With so many experiences under her belt, Mary says the people are what matter most to her. She has developed friendships at home and abroad that will last her lifetime. She adds, "[Saint Mary's] has helped make me passionate about my field of study, and my professors continue to inspire and encourage me daily."

—Sarah Sheppard '11
Higher Education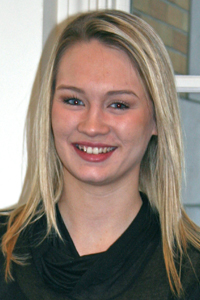 Senior Emilee Looft is no stranger to cold weather and snow. The Portland, Ore., native initially attended a large university in the Midwest before transferring to Saint Mary's in search of an excellent education program. "I realized that Saint Mary's met my needs and expectations as an education major. My teachers and advisors know me on a first name basis, and they are always there to assist me," says Emilee. She is majoring in elementary education, working toward the certificate in special education: mild interventions.
"The implementation of the mild intervention program also had a great impact on my decision to attend this school," says Emilee, whose ultimate goal is to continue her education and become a special education teacher. "I have always been drawn to children because they have the most imaginative and curious minds," says Emilee. "Teaching provides me with an opportunity to expand those minds."
Emilee says that department chair Dale Banks greatly impacted her decision to attend Saint Mary's. "During my campus visit last spring, all of my questions about the education program were answered. Even though I had not committed to becoming a transfer student, Professor Banks sat with me and worked out a three year plan," explains Emilee. "I left his office with confidence. My questions were all answered and I was determined to be a part of the Saint Mary's community."
Not only did Saint Mary's answer Emilee's questions, the College's financial aid office worked with her, making her goal to attend Saint Mary's a reality. "There is always help available when it comes to filling out FAFSA (Free Application for Federal Student Aid) and other forms in order to obtain the funds needed to attend Saint Mary's," says Emilee. "Any opportunity that would help me financially was discussed and what I qualified for was awarded."
Emilee recognizes the importance of the financial support and assistance the College has given her. "Words cannot express the gratitude I have for scholarship donors and the staff that work in financial aid. Without their help I would not be attending a college that will better prepare me for my future."
Two Belles = Great Teaching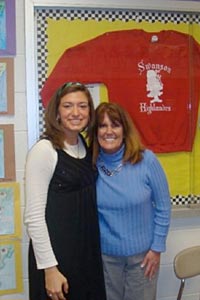 Senior Franca Peluso and Mary Ellen Jozwiak '85
Sometimes fate brings two people together. This seems to be the case for senior Franca Peluso and Mary Ellen Jozwiak '85, a Saint Mary's student and alumna, both from Pennsylvania. Peluso is from Greensburg, Pa., just 30 miles from Jozwiak's hometown of Pittsburgh. The two met at Swanson Primary Center in South Bend, Ind., where Jozwiak teaches first grade. Peluso is participating in a service learning experience in Jozwiak's class, as part of her elementary education major with a certificate in special education: mild interventions. Both women can speak to how well Saint Mary's has prepared them to be teachers.
"Saint Mary's offered me lots of field experiences, which prepared me for everyday life in the classroom," says Jozwiak, who has been teaching for 24 years. Peluso echoes those sentiments.
"Our education department offers wonderful opportunities for its students by sending us into the field during our first year on campus," says Peluso. "Because of this experience, I have been able to recognize my true passion for teaching."
Peluso says she chose Saint Mary's because it was the perfect fit, something she felt was important while living so far from home. "The Saint Mary's staff and faculty have welcomed me with open arms since my first visit." Peluso also says she was interested in the challenges the College offered her, particularly as a varsity women's tennis team member. "As my tennis coach Dale Campbell noted in a recent team meeting, 'You wouldn't be at this institution if you did not want a challenge.' Saint Mary's women want the challenge that will push them to reach further than they ever thought possible. That is why I chose Saint Mary's."
Peluso takes that challenge to heart, participating on the Student Athlete Advisory Committee, the education club, and numerous service groups on campus and in the local community. But it's the time she's spending with the children in her class that is winning her over.
"Franca helped out with some of my struggling students," says Jozwiak. "She instinctively knew who to go to. The children loved her, and she was well prepared for a classroom experience because of Saint Mary's education department. She seemed comfortable and at ease in the classroom."
Peluso's success in the classroom will soon translate to success in her own classroom. Her plans include becoming certified in special education, attending graduate school to get her master's degree in education, and pursuing further studies in children's communication. "Personally I believe education provides unlimited opportunities and I am looking forward to what the future will bring."