Elementary Education (K-6)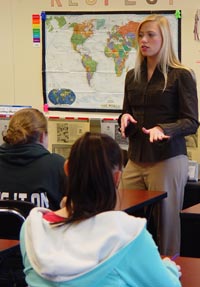 Being an educator requires passion, commitment, and the ability to communicate with students from diverse backgrounds. As a teacher, you play a critical role in the development of children and, ultimately, society. As a student in the Education Department, you learn how to be effective in today's classrooms.

The Education Department at Saint Mary's College offers a major in Elementary Education (grades K-6 licensure), and a Secondary Education minor (grades 5-12 licensure). With an elementary education major, you can also receive licensure in Mild Intervention (mild disabilities grades K-6), English as a Second Language, and Indiana Reading (Licensure P-12). You can complete a minor in Early Childhood Education (no license). The Department also offers a license in Visual Arts or Music.

Saint Mary's teacher preparation programs are accredited by the Indiana Department of Education and the National Council for Accreditation of Teacher Education (NCATE). Upon successful completion of your program, you will obtain a license to teach in Indiana. From there, the prospects are unlimited. Many Saint Mary's Education graduates go on to teach in public and private schools all over the country.

"My experience at Saint Mary's prepared me for the teaching world and taught me the skills I needed to excel in a teaching job at any grade level. During interviews, I had many principals comment on how impressed they were at my overall knowledge of current educational trends as well as traditional teaching theories—a knowledge I gained at Saint Mary's." —Lauren Dinger '06

Writing in the Major
Effective communication is integral to the Education major. Over the course of your Education studies, your writing skills will expand as you develop unit plans, lesson plans, and reflections. You will meet the Advanced Writing proficiency requirement through submission of two papers written in your junior year. Accepted papers include a Critical Reflection of the Standards, and a reflection paper on your choice to become an educator. The latter is one component of your student teaching application.

Senior Comprehensive
Upon completion of student teaching, you will submit the Education Portfolio as the senior comprehensive, which highlights achievements during student teaching.

Experiential Learning
With teaching, experience is everything. As a Saint Mary's Education student, you will have repeated opportunities to gain teaching experience before you enter the profession. From the very first course taken sophomore year, you will observe in real classrooms. Junior year, as a teacher candidate, you will observe teachers and begin to plan lessons and assist students in real classroom settings. As a senior, you will be placed in a yearlong setting where you will assist during the first semester and student teach during the second semester.

As a teacher candidate in the Education Department, you will experience an exciting opportunity to apply the theory from your coursework to actual classrooms, all beginning with the first course you take in the Department. As a result, you will gain the knowledge and confidence that only real experience can bring.

Careers
Upon graduation, you will have many options for your future. Our faculty has the experience and knowledge to mentor you, helping to ensure your goals are met. Whether you move on to graduate school or into the classroom to teach, you will have the ability to succeed in a variety of areas.