Alumnae Profiles
Happy Ending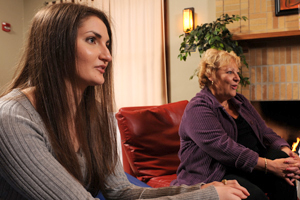 Angela Saoud and Professor Kitty Green
at an alumnae gathering
When Angela Saoud '05 was a student at Saint Mary's, she worked in the Haggar Snack bar. "To this day, I still make a mean grilled cheese sandwich," says Saoud. But it's the other job skills the English writing major honed that set a path for her future. While at Saint Mary's Saoud was a member of The Observer staff from 2003-2005 and was the Saint Mary's editor during the '04-'05 school year. "That consumed a lot of my time, but I like being in an organization that helped Saint Mary's get the recognition it deserved." The Observer is the student-run Notre Dame-Saint Mary's-Holy Cross newspaper.
With a minor in secondary education, Saoud is now an English and journalism teacher at LaPorte Community School Corporation in LaPorte, Ind. She is also a freelance writer, with articles published in the South Bend Tribune, Northern Indiana LAKES Magazine, and Courier, the College's alumnae magazine. She specializes in features that "focus on people and their stories. I'm a believer that everyone has a story," says Saoud.
Saoud's own story includes how she came to attend Saint Mary's. Originally she wanted to attend a big state school, but a diagnosis of Systemic Juvenile Rheumatoid Arthritis forced her to change her plans. "I needed a smaller campus close to home that I could be more mobile on," says Saoud. "Saint Mary's had so much to offer, I knew it was the right place the moment I stepped on campus."
Beyond mobility, Saoud says the size of Saint Mary's allowed her so many more opportunities for learning. "I really feel that because I was able to know my professors so well, I was able to pick their brains and advance my own learning at the same time. I know that Saint Mary's made me what I am today," says Saoud. She stays in contact with one of her professors, Professor Kitty Green, who Saoud says "inspires me to want to be a better person and a better teacher."
Saoud sets her own example as a volunteer for the South Bend Arthritis Foundation, sitting on their board. "I love giving back to an organization that has given so much to me."
As a teacher Saoud says that she tries to make the world a better place each day by being there for her students. "I teach them more than just English—I teach them how to interact with one another, how to care about one another, and how to love one another. I touch lives each day by teaching."
One for the Books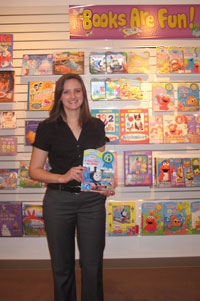 Alumna Lynn Sikora '06, self-proclaimed lover of books and "all things international," turned her passions into a successful career with a Chicago-area publishing company. Sikora majored in English writing at Saint Mary's and completed a German major through the University of Notre Dame. She now works at Publications International, Ltd., in Lincolnwood, Ill. She is an acquisitions editor in the children's books division and works with people from all over the world.
That's nothing new for Sikora. International communication is her forte. As a student, she studied abroad for a year with the Innsbruck, Austria Program. In addition to exploring Austrian culture and being able to view mountains from her dorm room, Sikora relished the opportunity to speak the German language like a native. "Learning art history and philosophy 'auf Deutsch' was no easy feat, so I'm very proud of the fact that I did it," she says. 
Sikora's foray into Austrian life continued after graduation when she spent two years teaching English to children ages 10-18 in Vienna. "It was one of the best moves I could have made," says Sikora, who credits Saint Mary's with preparing her to take advantage of whatever life had to offer. The academics here, as well as caring professors and a vibrant campus life, taught her to dream big and to develop the skills that made her dreams a reality.
Now Sikora flexes her creative muscles at Publications International "to help bring exciting, educational, and affordable products to young children." In addition to handling all international books for her company, Sikora works with licensors submitting books in various stages for approval and hires artists and voice talent for books that require new art and voice-over for electronic books. She works on projects with different licensors and properties including Thomas the Tank Engine, Barney and Friends, and Bob the Builder.
When she started, her company had just launched a German division, and with her German-language background, Sikora felt right at home. "Saint Mary's prepared me [for my career] in so many ways," she says. "Many of my classes focused on small group work and that is something I do on a daily basis at work. When working in a group, it can be easy to hide, but Saint Mary's really taught us to speak up and share ideas in an approachable way."
Sikora also shares her talents with the Saint Mary's Admission team. From time to time, she represents the College at career fairs in her area and will soon be calling accepted first-year students to answer their questions. She's just giving back to a place that, she says, "helped me become who I am today."
Something Super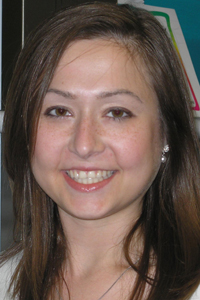 Amanda Goetz '08 has always known she wanted to work in the healthcare and medical industry. Not a fan of math or science, she found a way to use her other skills – writing and communications – and today she is the Communications Program Manager at SuperSibs! a national nonprofit organization with headquarters in Rolling Meadows, Ill.
The organization "helps children redefine the 'cancer sibling' experience by providing needed support services and by helping to draw out the greater and important lessons that may benefit these children later in their own lives," says Goetz. Goetz is responsible for the creation, production and implementation of program deliverables. She also manages the Web site, and public relations initiatives. "Working in communications and public relations for a healthcare organization allows me to do what I love –write –and work in the industry I am passionate about –healthcare," says Goetz.
With a major in English writing and a minor in theatre performance, Goetz appeared in a number of Saint Mary's productions including the all female cast of Macbeth. "We had professional stage combat lessons that taught me so much. It was pretty amazing to see all these young women fighting with swords and daggers on stage," says Goetz. She credits her directors, professors Mark Abram-Copenhaver and Katie Sullivan for pushing her to "be better on stage and off."
Goetz kept busy at Saint Mary's, working all four years at the circulation desk of the library. During her junior year, she was the theater department representative to the Student Academic Council (SAC). She had four internships, including a full-time public relations summer internship with the Silverman Group in Chicago, prior to her junior year. She was also an intern during her junior year for the public relations director in the Saint Mary's Marketing and Communications department. During her senior year she worked as a full-time marketing communications intern with Red Chicago Marketing in Chicago.
Originally from Orland Park, Ill., Goetz was set to attend Northwestern University, but she wanted something that fit her better. "I had visited Saint Mary's college before when I took a tour of the University of Notre Dame in high school, and it always stuck out in my mind. I thought it was a great fit for what I wanted: prestigious, beautiful, and small." Goetz took advantage of the Saint Mary's/Notre Dame relationship, enjoying football games, as well as an internship at Notre Dame Law School.
When talking about the unique opportunities provided by Saint Mary's, Goetz looks to her internships, and her relationships with her professors. "I know that if I ever need advice or feedback on my writing, I can email or call any of my former professors and they will know me and be happy to help. That is just the type of people at Saint Mary's College – they truly care about you."
Write Now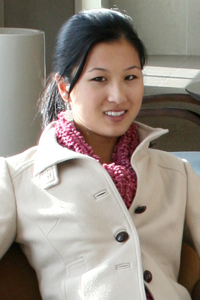 It's a truth that can't be denied: the intimacy of Saint Mary's campus and its physical beauty are draws for students from all over the country. This is what drew Naples Fla., native Jessica Huang '09 to the College. "I was attracted to Saint Mary's because of its small liberal arts setting and beautiful campus." Huang says the best part of being a student at Saint Mary's was the "small classroom size and professors that genuinely care about their students."
Huang graduated with a degree in English writing. As a student, she found professor Ted Billy to be an excellent teacher and mentor. "He imparts 100% of his efforts towards the improvement of students' analytical and writing skills with a positive attitude that lightens the mood and spirits of the entire class."
When it comes to favorite classes, Huang is hard pressed to single out any to the exclusion of others. Still, she speaks highly of a class outside her major. "I thought American popular music was a challenging and highly educational course on our culture and history through the lens of chart-topping songs."
In addition to her classes, Huang was an assistant in the English literature and writing department, and she was an intern for Courier, the College's alumnae magazine. She also worked at Ave Maria Press, as an administrative assistant and held the position of editor-in-chief of The Avenue, a student publication.
Huang also studied abroad in Haifa, Israel, during her junior year. "I returned from Israel more open-minded because of my exposure to such a vast array of people coming from diverse cultural and religious backgrounds," says Huang. "I gained a deeper understanding that despite our differences, people from all corners of the world have more in common than expected. Studying abroad also taught me to always be willing to learn something new from anybody or situation I may encounter."
Huang is considering graduate school after a few years in the workforce. Whatever she decides to do, she'll be prepared. "Saint Mary's has provided me with a network of caring faculty, administrators, and students that have supported every effort I've made toward success in my courses, study abroad, and career quest."