Student Profiles
International Opportunities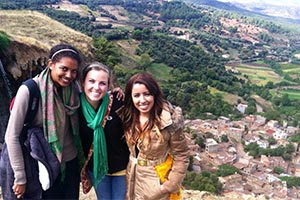 Kaitlyn Rabach, middle, in Morocco.

Kaitlyn Rabach knew she wanted to attend Saint Mary's College ever since she visited campus in sixth grade and fell in love. And, when it came time to choose a college six years later, an older, wiser Kaitlyn still chose Saint Mary's. "One of the main reasons I came here was because of Saint Mary's strong intercultural education program," says the global studies and political science double major. "My global studies major will allow me to broaden my horizons and learn about different cultures and political systems in the world."
Kaitlyn's experiences here at Saint Mary's provide the exposure and awareness of other cultures she needs for her future. She studied abroad in Ifrane, Morocco in 2012. She participated in the College's Study of the United States Institute (SUSI), which brings undergraduate women leaders from Burma/Myanmar, Egypt, Libya, Mongolia, and Tunisia to learn about the United States. She worked in the Center for Women's Intercultural Leadership office in the summer of 2012 and is participating in the Women's Intercultural Leadership Certificate Program. Her goal is to become an international lawyer, so intercultural competence is important to her future success. "In this new era of globalization and interdependence a global mindset is absolutely essential." She also has plans to study at American University next semester.
And Kaitlyn's intercultural experiences are just one facet of her Saint Mary's education. Since her sophomore year, she's been the Saint Mary's editor of The Observer, the joint student newspaper with the University of Notre Dame. And she's co-president and organizer of an anti-human trafficking group that works with the Justice Education Program and the Sisters. "Saint Mary's has allowed me to improve both my leadership and intercultural communication skills. It has taught me work ethic, responsibility, but most importantly, it has given me the confidence to tackle anything I set my mind to."