Alumnae Profiles
Dual Dose of Ambition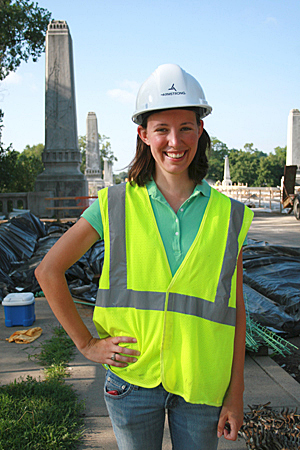 Jenny Hellyer '10 poses at the foot
of the Twyckenham Bridge in South
Bend. She is helping on the bridge
rehabilitation project as part of a
summer internship.
Like many young girls, Jenny Hellyer '10 and her little sister played Barbies. But Jenny didn't fret over what Barbie would wear to Ken's pool party. While her sister dreamed about the doll's next adventure, Jenny was building Barbie a place to live.
"I actually built us a Barbie Dream House with a (working) elevator I made out of old shelves," Jenny recalls. "I had more fun building us things to play with than actually playing. My sister thought it was cool because then she could play with it."
This is apparently what a budding engineer looks like.
Fast-forward 12 years: Jenny has completed the Saint Mary's College-University of Notre Dame Engineering Dual Degree Program. She earned a bachelor's degree in mathematics from Saint Mary's, and received her bachelor's in civil engineering from Notre Dame. Jenny is poised to enter a male-dominated field that is eager to hire women. Two degrees gives this strong student another advantage.
"Having an advanced math degree allows Jenny to have a richer understanding of design concepts, theories and structural design," notes Susan Al Abbas, an engineer who supervised Jenny on a summer internship with the company R.W. Armstrong. Instead of a "dream house," Jenny helped out on a bridge rehabilitation project. The company asked her to stay on the following fall as a part-time employee.
"With Jenny's strong leadership skills, she could end up being a program manager at some point in her life. Successful program managers have a strong sense of business acumen—they have the ability to understand and manipulate complicated budgets, schedules and financial theories. I think her math degree will help her be a better manager," says Al Abbas, office manager/project manager with the company's South Bend office.  
Jenny says that no matter where she works her Saint Mary's background will stay with her.
"Saint Mary's pulls you out of your shell. I was a really shy kid in high school. I probably never would have done this, if it weren't for coming here. Now I'm much more outgoing, much more confident in myself. My parents and I believe that came from Saint Mary's."
Head of the Class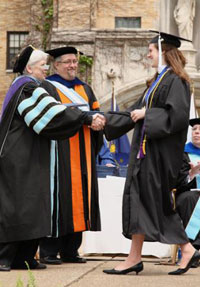 Alumna Courtney Parry '09 found her calling in the math and business departments at Saint Mary's. In fact, she was so successful that she graduated the valedictorian of her class.
While at Saint Mary's, the former mathematics and economics double-major was extensively involved with the math honor society Pi Mu Epsilon, serving as president of the Saint Mary's chapter. As a junior, she presented a lecture entitled "Mathematics and Nature" at the spring 2008 meeting of the Indiana Section of the Mathematical Association of America (INMAA).
With a valedictory honor and much academic success under her belt, Courtney traveled across the street, to the University of Notre Dame, where she is a student in the Engineering, Science, and Technology Entrepreneurship Excellence Master's Program (ESTEEM). It's a new challenge that she feels Saint Mary's prepared her well for. "Saint Mary's has provided me with an excellent education in the liberal arts tradition," says Parry. "I owe a great deal of gratitude to the incredible educators who have influenced my life. These individuals have provided me with a multitude of support and have always encouraged me to exceed my own expectations." No doubt, Courtney has gone on to set new expectations for herself as an engineer and entrepreneur, and she'll meet those too.
Beyond the Numbers
Anyone who thinks math is no fun has never met Anna Fricano '08.
Anna still laughs when she remembers the first time she walked into her freshman calculus class at Saint Mary's. "There was a millisecond where I thought, 'Wow, there are a lot of girls in here for a math class.' And then immediately it dawned on me: 'Well, I go to an all-women's college—there aren't going to be any men in here!'" At Saint Mary's, she says, "It's empowering to be in a class with all women. In this environment, math is just interesting, and it's fun."
Originally planning to major in business, Anna chose mathematics at the urging of Professor Joanne Snow. "She is such an expert in the field and I respected that so much. She made herself so available to us, and I've found that to be true with all the math faculty." Sophomore year, Anna's professors nominated her for a Clare Boothe Luce scholarship, which she won. Covering tuition, books, travel to conferences, and an internship, she says the scholarship was both "a financial blessing and a vote of confidence" from her teachers.
With interests beyond numbers, Anna completed minors in computer science and Italian. She also studied abroad with the Saint Mary's Rome program.
Anna says,"Having a math degree really opens up a lot of the same opportunities as having a business degree, because they're looking for people with good analytical skills. And really, that's what a math degree gives you. You can analyze problems and look at problems from a different perspective. That's just how we're trained to do things."
Logical Approach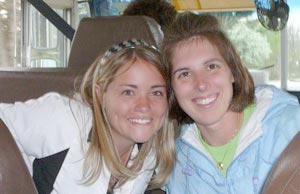 In addition to her teaching responsibilities,
Erin Seidelmann '09 (left) coached track.
Alumna Erin Seidelmann '09 has a love for logic. She hopes to pass it on to future generations, which is why the Tinley Park, Ill., native decided to become a math teacher. Erin was a math major who also enrolled in Saint Mary's secondary education program. "I have always loved math because it is so interesting, practical, and logical," she says. "I decided to become a teacher to pass on my passion for math."
As a second semester senior Seidelmann completed her student teaching experience. She taught sophomore and junior level Algebra II at Mishawaka High School. "I learned so much," she says. "It is great and necessary to learn the theory behind teaching, but it is not until you are thrown into a classroom that you discover your teaching styles and the techniques that work the best."
Saint Mary's secondary education program is hands-on right from the start. Students are placed in the field from their first semester in the program. They observe and teach lessons to middle school and high school students across the region.
For Seidelmann, who also coached track at Mishawaka High School, student teaching was an invaluable experience. It prepared her to enter the workforce. "Saint Mary's education department does an excellent job of preparing us to become teachers," says Seidelmann. "They provide us with the pedagogical knowledge we need in combination with plenty of classroom teaching experience.