Music Education Major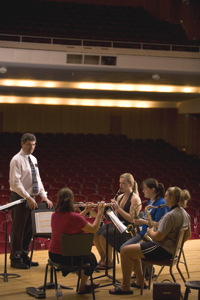 Develop your unique musical talents while working closely with outstanding faculty and visiting artists. Our program challenges you to strive for excellence in both individual and group performance, and to develop an intellectual understanding of musical structure and the processes that create it.
The Department of Music offers state-approved curricula to prepare you for your career as a licensed elementary or secondary music teacher, and is accredited by the National Association of Schools of Music, a high honor for a college music department.
The Experience
Participate in a wealth of diverse performance and other experiential opportunities working with student composers, chamber ensembles, and various members of the surrounding musical community. Recital forums and the Window on Music series offer exposure to many music-related careers. Field experiences in local classrooms will prepare you to teach after graduation.
The Requirements
The music comprehensive will focus your training in analysis, history, and music literature on a single solo or ensemble composition. You'll present a theoretical and historical analysis of the piece or set of pieces to the faculty and other students. 
The Writing
The advanced writing proficiency requirement in the Department of Music has two components:
A paper written for a music course. The faculty must approve the selection of the piece to be submitted.
A composition, orchestration, or arrangement written during the third or fourth semester of the theory sequence. Computer notation and laser printing of the score are required. Both the composition itself and its notation will be assessed. The faculty must approve the selection of the composition to be submitted.
The Results
Students who earn the bachelor of music degree in music education find teaching positions in public or parochial schools immediately upon graduation. Students may elect to pursue the all-grade music certification (K-12, recommended), or focus on a specific level (elementary, middle level, secondary).
The Music Education Major is offered by the
Department of Music