Student Profiles
The Apprentice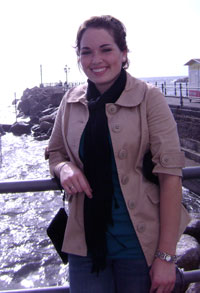 Junior Laura Smith says that as a Saint Mary's student she has, "taken on challenges and accomplished things" that she didn't know she was capable of otherwise. The Orland Park, Ill., native took on The Eternal City when she studied in Rome in the fall of her sophomore year. She says she grew both spiritually and emotionally while she was abroad and developed a sense of independence.

That independence, nurtured at Saint Mary's home campus through her coursework, has Laura setting her sights on international service after graduation. One of her mentors, Italian professor and Rome Program director Peter Checca, encourages her passion for travel abroad, and brings something more to class discussions.

"In class, he talks about the simpler things in life and really makes you see how the simple things can sometimes be the best things." Laura describes him as "the kind of person who really lights something within you."

Laura is an English writing and political science double major, also pursuing minors in Italian and computer science/mathematics. 

Through the English department's Writer Apprenticeship Program, Laura worked with political science professor Sean Savage, assisting him with a now published article. The Apprenticeship Program pairs a student with a professor who is working on a publication or research project. Laura worked independently proofreading and compiling research for Professor Savage, learning more about Franklin D. Roosevelt every step of the way. She says, "It is satisfying to know that I am assisting with something that is so professional."

Laura also puts her professional leanings to good use as a member of student government and a dedicated volunteer. She is currently the secretary of the Junior Class Board and the junior class representative for the Political Science Club. She is a member of Student Government Association (SGA), Friends with Sisters, Best Buddies, and College Republicans.

Laura is looking forward to a position with an international service organization after graduation. It will be her opportunity to make a difference using the skills and knowledge she has gained at Saint Mary's. "Extensive service was something I never really thought about seriously, but I have truly grown spiritually here, and it makes me see how important it is to give back," she says. After that, she is considering law school or a career in publishing.

—Sarah Sheppard '11
The Political Life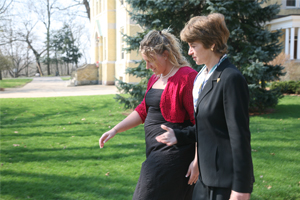 Blaine Nolan had her first taste of politics when she was around six years old. The president of the College Democrats at Saint Mary's remembers attending a sleep over at a friend's house. "I had to wake up really early the next day to be in a parade for a friend who was running for mayor of our town. I was so mad at my parents that I didn't talk to them for a day."
Her disappointment didn't last, and Blaine is now actively involved in politics both locally and on a national level. She even had the opportunity to meet Kathleen Kennedy Townsend, the daughter of Robert Kennedy.
"She was very concerned about me; she even told me to go to law school, which is something that I have been tossing around for some time now," says Blaine of the advice she received from Townsend.
Blaine, who is a political science major and a psychology minor, stays politically connected as a member of the Political Science Club at Saint Mary's, as a state officer for the College Democrats of Indiana, and as the treasurer for Northern Indiana Democrats, in addition to participating in the Psychology Club.
Blaine enjoys the friendships she's made with her classmates and her professors, and suggests that others pursue that opportunity as well. "They [professors] have connections in a lot of places and they can help get you further in life."
As Blaine considers her future she entertains the idea of running for office someday. "I would probably try to start out locally, either here in South Bend or in my hometown, and just see how it works," says Blaine.
Saint Mary's College does not endorse political candidates.