Alumnae Profiles
Empowering Women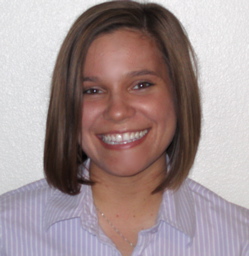 It's difficult for Connie Adams '08 to say what she loves most about her job. She has trouble choosing, but says she's blessed to be living out her passion. Adams graduated from Saint Mary's with a degree in social work and a minor in justice education. She went on to earn her Master of Social Work (MSW) degree from Washington University in St. Louis, with a concentration in Outreach and Prevention in Intimate Partner Violence and a specialization in management.
Adams is now assistant director of Saint Mary's Belles Against Violence Office (BAVO). Her position requires her to work with students who've been impacted by violence, including sexual assault, stalking, and relationship violence. She says this kind of work isn't necessarily chosen by someone; rather, it chooses them.
When she began her college career Adams was certain of two things: her disinterest in science-related majors and social work. "However, within my first year at Saint Mary's I discovered my passion for the unexpected: the social work profession," she says.
At the encouragement of her resident advisor, Adams enrolled in two social work courses to fulfill general education requirements. Her professors made a lasting impression on her. "I learned the diversity of the field and discovered the similarity between my personal values and ethics and those of the profession," she says.
Adams then interned in the Summer Service Program with the Office of Civic and Social Engagement (OCSE). She was placed at the YWCA of North Central Indiana. "While I worked in various programs throughout the summer, it was my interactions with survivors of violence which left a resounding impact," says Adams. By the end of her sophomore year, she had chosen a social work major and her specialty: violence against women.
Now, as assistant director for BAVO, Adams' objectives are focused in three categories: Prevention, Education, and Training; Advocacy; and administrative duties. She meets individually with students who have been directly or indirectly impacted by violence, provides support, and shares and helps navigate campus and community resources.
Adams also coordinates programs for students, faculty, and staff to raise awareness of violence and abuse. "Each day is a little different," she says. One of her goals as an alumna role model is to instill a passion for social justice in the students she meets, as well as to encourage their personal growth.
"Saint Mary's students are incredible women," she says. "The College offers a unique environment to promote self-discovery and holistic development. First and foremost, it is my aim to foster this environment."
Taking the Next Step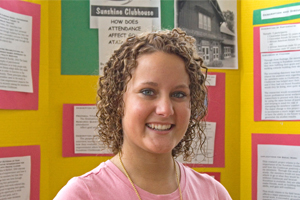 When Anne Therese Stroude '09 graduated from Saint Mary's, she was ready for her next step—attending Washington University in Saint Louis, Mo., to attain her master's degree in social work. "Saint Mary's College has prepared me through their accredited social work program. I have been blessed with the most talented and intelligent professors, who were also my support system in the academic world," says Stroude. "Thanks to the rigorous curriculum, I [was] offered advanced standing at Washington University and will be a step ahead of the other students who will not be graduating with a bachelor's in social work."
Stroude was active in the area of social work during her four years at Saint Mary's. She was a member of the Social Work club for three years; she volunteered at Catholic Workers House and the Center for the Homeless; and she completed her senior internship at Sunshine Clubhouse in South Bend, Ind.
"Sunshine Clubhouse is a daily treatment program which uses the psychosocial rehabilitation approach to work with members—not clients—to gain skills to use outside in the community," describes Stroude. Some members have been diagnosed with schizophrenia, schizoaffective disorder, depression, suicidal thoughts and bipolar disorder.
"Sunshine Clubhouse has really played a major role in my decision to be a social work major," says Stroude. When I was a sophomore I took an introduction to social work course and during this course we took a field visit to Sunshine. I remember telling Dr. [JoAnn] Burke upon leaving, that Sunshine was where I wanted my senior field placement to be, and here I am almost through with my internship."
A native of Irvington, Ind., Stroude shared her time at Saint Mary's with her sister Rachel '07, and a life-long friend, Gracie Deery '09. She and Gracie were roommates for all four years. They also traveled together, studying abroad during their sophomore year.
"The studying abroad experience truly changed my perspective of different cultures and the life I lead in America. Being on my own for an entire semester was such a beautiful adventure and an empowering experience," says Stroude. "I traveled to a few different places in Ireland and also to London with a small group of friends. To this day those three girls are my closest friends at Saint Mary's."
Stroude credits the dedication of her professors for helping her to become the best student she could be, describing Dr. Burke as a constant, encouraging fan in her corner. "When discussing different options regarding my future she shared her thoughts and opinions, but never once discouraged any idea I shared with her. Dr. Burke has truly touched my heart in many ways and I will always be so grateful for her continuing support."
Leading by Example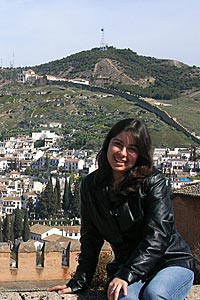 Adriana Lopez '08 knows what it means to be an intercultural leader, and she left Saint Mary's with the document to prove it. Lopez graduated with a major in social work, and a Certificate in Intercultural Leadership. This e-portfolio program through the Center for Women's InterCultural Leadership (CWIL) was the culmination of classes, work, and personal experiences. Lopez says the certificate gave her "the ability to be sensitive, the ability to work with different people [other] than your own and to acknowledge that there are differences, but those differences are what give you a commonality because we're all different. It's finding a way to work together."
Lopez, who was born in the U.S., has also lived in Mexico. She returned to the U.S. eight years ago, during a time where she experienced " a whole culture shock," learning the language and assimilating into the culture "without losing my identity," says Lopez.
CWIL helped Lopez with this process through their summer program, Encuentro: Encounter Yourself. The program, which Lopez attended her sophomore year of high school, works with prospective first generation college students. "I came to CWIL and that's sort of how I became interested in Saint Mary's. After that I became a counselor for the camp and last year I was on the planning committee for it."
Lopez's leadership experience includes acting as the chair of the Diverse Students' Leadership Conference, as well as attending national women's conferences, where mentor Bonnie Bazata, Associate Director of CWIL, treated students as colleagues. "Every time Bonnie would introduce herself, she would say, 'I'm going to let my colleagues introduce themselves as well.' And the women there [were] also taking our perspectives into consideration and not just saying, 'You are still missing a couple years of work experience.' It was like they really appreciated our contributions. That to a young a woman and to a young woman of color—I think that's very empowering and it motivates you and inspires you to keep going on."
Lopez's future includes interests in immigration, economic development, and public policy. She is currently working as the Senior Prevention Coordinator for New York City Alliance Against Sexual Assault.