Sociology Major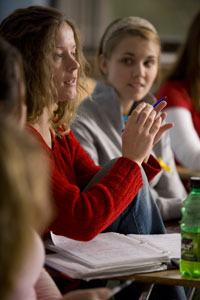 Sociologists are interested in people's behaviors as social beings. Gain a new sense of yourself and the world around you. Utilize your creativity, problem-solving, and communications skills to analyze individual and group social behaviors, and study global social processes.
The Experience
Be a part of a winning tradition—since 2004 students have won a total of five first place awards, four second place awards, and four third place awards in the North Central Sociological Association (NCSA) sponsored competition for both graduate and undergraduate students. A variety of courses, seminars, and research opportunities are available, as well as internship experiences that develop your unique perspective and voice.
The Requirements
The sociology program emphasizes the value of empirical evidence for understanding social phenomena and the ability to communicate that perspective to others. Demonstrate your understanding through the senior comprehensive project. Professionally present your research to the department and a general audience.
The Writing
To fulfill the College's advanced writing proficiency requirement, you submit your written senior comprehensive project for evaluation.
The Results
Prepare for a career where knowledge about social behavior or conducting scientific research on social behavior is essential. Alumnae have gone on to graduate programs, and have become lawyers, teachers, and researchers.