Alumnae Profiles
Curtain Call
All the world's a stage,
And all the men and women merely players

—As You Like It
William Shakespeare
Saint Mary's alumna and former theatre major Carole Deeter has already moved on to the next stage of her life in theatre. The 2008 graduate landed a position as a production assistant/assistant stage manager at the Indiana Repertory Theatre in Indianapolis. Before that, she had a part in many productions at Saint Mary's College.
Deeter worked with both the theatre and music departments, on music recitals, Madrigal dinners, and stage productions. She's worked in the scene shop and the costume shop; she's hung lights, and painted sets. She is a member of Thespians Unplugged, the theater department's club. She was also the student academic council representative for the theatre department. In 2007, Deeter was an intern with the Indianapolis Opera, and in 2008 she was an intern for South Bend Civic Theatre, acting as the assistant lighting designer for School House Rock Live, and as the set designer for Intimate Apparel. "One of the best things about our theatre department is that we have the chance to work on all aspects of a production so we can really learn as much as possible," says Deeter. "I've found in interviews that I've had over the last few months that a lot of people are impressed with the range of experience I've been able to have."
Deeter says that professor Mark Abram-Copenhaver was influential in her choosing to stay with her decision to be a professional stage manager. "He brought out the can-do part of me," says Deeter. "I was thrown in the deep end right away, which was the best way to do it, for sure, but he stuck around to answer my questions and to guide me." One of her favorite classes was introduction to performance studies, taught by Dr. Shannon Rose Riley. Of that course Deeter says, "Both the material we covered in class, and the work I got to do with Dr. Riley helped me realize how I can take the theatre work that I do and help to impact or change the world at the same time."
In addition to classroom and stage experience, Deeter had the opportunity to attend and participate in the American College Theatre Festival in Milwaukee this past January. There, she was able to attend workshops, lectures, and shows, as well as receive professional feedback on her own work.
Deeter says she chose to work in stage management because it gave her the chance to help people. "While the stage manager usually goes unnoticed, she is crucial to keeping the production rolling," says Deeter. "I have the opportunity to help a director and many designers at once execute their artistic vision, and through that, I help them change the world."
Never Grow Up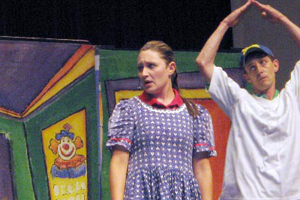 Alumna Erin Schultz can tell you all about making peanut butter and jelly sandwiches. Having access to this type of heady information is part of what she does for a living. The 2003 theatre and communication studies major can tell you this and more at live performances of How to Make a Peanut Butter and Jelly Sandwich, or for the literati, The Adventures of Super Pencil and Lead Lad – the story of, "two superhero pencils who have to save the world from Dr. Mechanical, who wants to turn all the pencils in Graphite City into useless #3 lead." Schultz performs these titles and more as a member of the Chicago based, non-profit, Child's Play Touring Theater.
Working with two other actors and a musician, Schultz travels the country performing short plays and poems written by children. The group also conducts writing workshops, and recently appeared at a school in the South Bend area. "I've gone to so many places I would have never even thought to go," says Schultz. "It's really amazing, after the two and a half years I've been here, to drive past a random Dunkin Donuts on the side of the road in Long Island and say, 'I've been there!"
The Mishawaka, Ind., native is the daughter of teachers, her mother a'68 graduate of Saint Mary's. While at Saint Mary's Schultz worked under the tutelage of theatre professors Mark Abram-Copenhaver , Katie Sullivan, Tom Boelman, and Susan Baxter. Schultz worked with Abram-Copenhaver on a South Bend Theatre production, and was an intern for him as an assistant stage manager for the Notre Dame Shakespeare Festival. Schultz says that Abram-Copenhaver's passion for theatre is, " infectious and it's so exciting to study and be nurtured in that kind of environment."
When Schultz isn't on the road she volunteers at PAWS, a Chicago-based animal shelter that believes in a no-kill policy. She also admits to enjoying creature comforts she can't find on the road during her 40+ hour work week – "food, TV, a comfortable bed."
Schultz considers herself lucky to be a Chicago actor who has the chance to perform everyday. "I felt really confident when I graduated," says Schultz of the time when she and two other alumnae moved to Chicago. "We knew we were smart young women who had gone to a good school that made us feel invincible. It's really important to feel that way when you're trying to kick-start a career in theatre!"
To see Schultz in action, go to www.youtube.com/cptouringtheatre and check out her favorites, "How to Make a Peanut Butter and Jelly Sandwich, and The Tourist Troll.