Student Profiles
In the Spotlight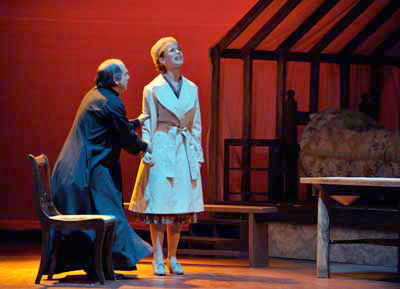 Victoria Flees starred in Confessions of the Chaff.
Junior Victoria Flees has no trouble getting into character. A double major in theatre and communication studies, she performed the lead role in a production of Confessions of the Chaff, a new play by Saint Mary's professor Susan Baxter.
Victoria does have trouble putting into words what she felt on opening night. As she prepared to go onstage, she worried—about how the audience would perceive the play, that something would unexpectedly go wrong, that she'd lose her Irish dialect and ruin the atmosphere.
But when the curtain went up, Victoria says she stepped into her character and became lost in the story. "I didn't know how well the play had gone until I saw my director and the writer after the show. Then I knew all the work had paid off," she says.
The story line of the play takes on the controversial subject of clergy abuse, the resulting betrayal of trust, and the impact on the lives of those in the parish community. Victoria played Katie Maura Mahn, a character that required Victoria to first master the Irish dialect and then step into uncharted territory. Being a new play, there were no production notes and no reviews of Confessions of the Chaff to add insight into her character.
Instead, Victoria collaborated with Baxter, director Mark Abram-Copenhaver, and fellow cast members to turn herself into Katie. "What I worked on was believing every line I said so that I would better understand how she felt and how she behaves," says Victoria.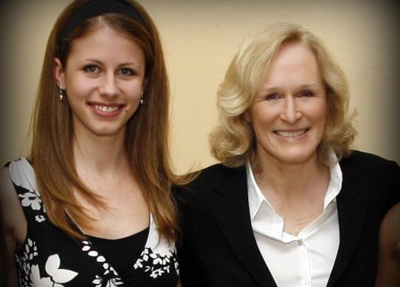 Victoria with actress Glenn Close
The experience was not only a lesson in acting. It became a balancing act for Victoria. She successfully attended to her coursework while meeting a demanding rehearsal schedule.  Victoria is also a member of the student group Thespians Unplugged, works in the costume shop on campus, and works in event catering on the side. 
Her secret to success was staying focused. She kept to a routine of good sleep, healthy eating, and scheduled study time, and got plenty of support from her sister, Elizabeth Flees '09, and good friends to keep her grounded. "My sister, who was a senior at the time, helped me with editing papers. She and my friends even went so far as to bring dinner to the dressing room so I could eat while getting ready for the show and getting into character," she says.
Victoria's continued love of the theatre has led her to many similar experiences at Saint Mary's. She was in last spring's production of Candide, and she counts Saint Mary's annual visiting artists program among the most inspiring experiences of her college career.
In April Victoria and three fellow theatre majors prepared a monologue and performed it for award-winning actress Glenn Close, Saint Mary's 2010 Margaret Hill Endowed Visiting Artist.
Close critiqued their performances, offering instruction and advice and then joined the students for lunch. It was an experience Victoria says couldn't have happened anywhere but Saint Mary's, thanks to the faculty and staff who work hard to make them part of her education.
Victoria's future plans aren't set in stone. But she is determined to pursue the stage and is considering graduate school. In the meantime, she is looking forward to taking a new course next fall called "auditioning" and putting what she learns to the test.
She's confident that she's on the right career path already. "I think it's important when figuring out what to do with your life that you pay attention to what you enjoy. I love the theatre and frankly, I can't imagine my life without it."
Talent in the Making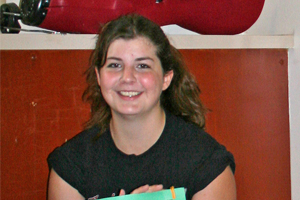 Boulder Colo., native and theatre aficianado Elizabeth Carian has found a host of opportunities to pursue at Saint Mary's, all while enjoying the ability to take the classes she wants to take. The religious studies and theatre major says that Professor John Fotopoulos has been helpful in her study of the Bible. "Having been in Catholic school for thirteen years, I have taken a lot of Bible courses," says Elizabeth. "However they were always teaching me what the stories were—not why or when or how. Professor Fotopoulos' class actually taught me what I wanted to learn."
In addition to her classes the sophomore participated in a long list of activities her first year, including being in the multicultural mentoring program as both a mentee and a mentor; acting in the theatre production, Lend me a Tenor; acting in the musical Candide; providing a voice in A Case of Belonging; participating in the Women's Choir; and helping out behind the scenes with lighting, props, sets, sound, and stage management.
Elizabeth hopes to work in theatre after college. In the meantime she is honing her skills at Saint Mary's. "I've been in theater almost all my life and hands down Candide was the single best and most professional production I've ever been in," says Elizabeth. "The way the cast, crew, director, choreographer, and designers worked together to make this play as amazing as it was is awe-inspiring.  I will have memories from this show that will stay with me for the rest of my life."
Center Stage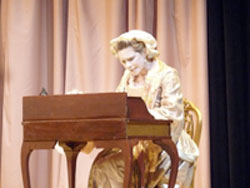 Kara on the set of The Imaginary Invalid
Sophomore Kara Quillard wears many hats—and many dresses, shoes, hairstyles, and even facial expressions. That's because Kara is a theatre major who has already performed in five productions, theatrical and musical, at Saint Mary's.
She even played the star role in the College's production of Moliere's The Imaginary Invalid. The role was her first main stage production.
The Needham, Mass., native is no flash in the pan actress. The stage experiences she's had at Saint Mary's have encouraged her to continue acting and "illuminated aspects of my talent," which she showcased commendably in The Imaginary Invalid as the severe hypochondriac Argan, whose many doctors are primarily interested in keeping their patients in their sickbeds.
You could say it was Kara's big break. She had another big break that year when Saint Mary's hosted Award-Winning actress Glenn Close, the Margaret Hill Endowed Visiting Artist. Kara's "Close" encounter included performing for the actress and benefiting from her critique, and sharing lunch with Close and fellow theatre majors.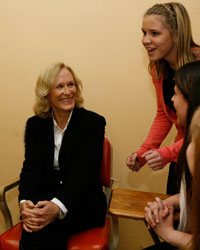 Kara with actress Glenn Close and fellow
theatre majors.
Though performing in front of Close was an intimidating prospect at first, Kara says the feedback from a tried and true professional was invaluable. Close mostly coached Kara on how to more fully realize her character. "This unique, life-changing event, I believe, could only happen at Saint Mary's," Kara says.
Kara intends to major in English writing in addition to theatre (Saint Mary's students declare a major in their sophomore year) and her favorite class so far has been Words of Love, taught by English professor and Holy Cross Sister Eva Hooker, CSC. Kara enjoyed the collection of novels read in the class and says Sr. Eva Hooker challenged her to do her best work.
"The best part of being a student here is the small class sizes," Kara says. "I always feel encouraged to share my opinion in the classroom."
"Dedicated student" is one more entry on her list of star roles.