Outstanding Senior Award Recipient Announced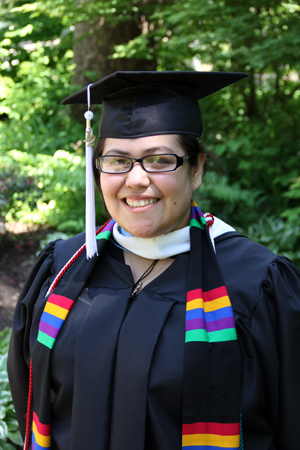 Anabel Castañeda '12, Outstanding SeniorContact:
Gwen O'Brien
Director of Media Relations
Saint Mary's College
(574) 284-4579
May 11, 2012 (Notre Dame, Ind.)—Saint Mary's College is proud to announce the recipient of this year's Outstanding Senior Award is Anabel Castañeda, a double major in political science and communication studies from Oak Park, Illinois. She will receive her award at the Alumnae-Senior Champagne Brunch on Monday, May 14.
Every year the Saint Mary's College Alumnae Association Board of Directors presents the Outstanding Senior Award to a member of the senior class who exemplifies the spirit and values of the College. The board chooses the recipient from nominees submitted by students, faculty, and staff. Tradition dictates that the recipient be someone who carries out the beliefs of her faith in daily living and is distinguished by scholarship, leadership, and outstanding dedication to Saint Mary's—as demonstrated through participation in both curricular and extracurricular activities. As the valedictorian(s) represents the mind, and the Lumen Christi Award recipient reflects the soul, the Outstanding Senior embodies the heart of Saint Mary's.
"I cannot begin to express the honor of receiving this award," said Castañeda. "There are so many of my peers that are outstanding and that just goes to show you what Saint Mary's is all about. Saint Mary's is a perfect environment to grow and challenge yourself and if it weren't for the other amazing seniors I don't even know where I would be. I also owe a lot to my many mentors and professors; they have been the forces in my life pushing me to succeed and I am just thankful for this incredible opportunity to represent our class as the heart of Saint Mary's."
When speaking about Castañeda you could say, "She is Saint Mary's." It's a marketing tagline meant to describe the Saint Mary's College experience as a time of discovery filled with opportunities to get involved and even lead. Castañeda jumped right into the action when she arrived on campus as a freshman and she never looked back.
Castañeda has been a leader for many of the clubs and organizations on which she has served. She served as president and treasurer of Al-Zahra, a club that celebrates North African and Middle Eastern traditions; international commissioner for the Student Government Association; and president of the Political Science Club. She also studied abroad in Ireland and attained an Intercultural Leadership Certificate through the Center for Women's Intercultural Leadership.
As a first-year student, she joined the College Academy of Tutoring in the Office for Civic and Social Engagement at Saint Mary's. "I never imagined college students could go into classrooms and make such a difference unless they were studying to become teachers," Castañeda said. She also volunteered as a Girl Scout leader and served food at the South Bend Center for the Homeless. She interned with the U.S. Public Interest Research Group in Washington, D.C., in U.S. Senator Harry Reid's Nevada office, and in the Integrated Marketing Communications Department at Saint Mary's College as a media relations intern.
Her award citation notes that Castañeda's beauty is shown through her everyday interactions, which could include anything from an encouraging word, a hug, a smile, or even lending a hand.
In nominating Castañeda, a classmate wrote, "She is committed to making Saint Mary's the very best for all students. She actively recruits prospective students, hosting them overnight and giving them a wonderful experience. It is clear that she holds the College close to her heart."
After graduation Castañeda will participate in a summer internship with the U.S. Embassy in Ireland and then attend the University of Edinburgh in Scotland, one of the top 20 universities in the world, to pursue a master's degree in international relations.
Castañeda says Saint Mary's College helped make her into the person she is today. "I just love Saint Mary's for empowering me and giving me tools to succeed," she said. "I have made amazing friends and found wonderful mentors. Leaving Saint Mary's is going to be difficult, but I know that no matter where life takes me, I will always have Saint Mary's in my heart."
About Saint Mary's College: Saint Mary's College, Notre Dame, Ind., is a four-year, Catholic, women's institution offering five bachelor's degrees and more than 30 major areas of study. Saint Mary's College has six nationally accredited academic programs: social work, art, music, teacher education, chemistry and nursing. Saint Mary's College ranks among the top 100 "Best National Liberal Arts Colleges" for 2012 published by U.S.News and World Report. Founded in 1844, Saint Mary's is a pioneer in the education of women, and is sponsored by the Sisters of the Holy Cross.