Board of Trustees Announces the Extension of President Carol Ann Mooney's Contract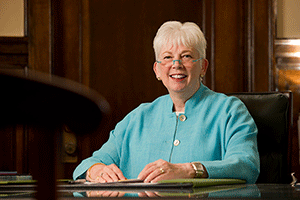 Saint Mary's College President Carol Ann MooneyContact:
Gwen O'Brien
Director of Media Relations
Saint Mary's College
Notre Dame, Ind.
(574) 284-4579
January 14, 2013 (Notre Dame, Ind.)—The Saint Mary's College Board of Trustees has extended the contract of President Carol Ann Mooney to May 2016, with the possibility of further extension. Board Chair Mary L. Burke '85 made the announcement today via an email to students, faculty, staff, and advisory councils. The original contract was set to expire in May 2014. Mooney recently signed the new contract. The news comes on the eve of the 8th anniversary of Mooney's inauguration, which took place on January 15, 2005. Her presidency began on June 1, 2004 and is historic in that Mooney is the College's first lay alumna president.
Burke said in her email, "This extension reflects our confidence in Dr. Mooney's leadership and vision for the future of Saint Mary's College. We are most grateful for her service over the past nine years and look forward to working together to ensure an even brighter future."
Among Mooney's many accomplishments as president is the effective completion of her first strategic plan, the Path to Leadership 2012. Mooney met many of her ambitious recommendations, including to:
In addition, plans are underway to begin graduate programs in selected fields over the next several years. Mooney's new strategic plan, Boldly Forward, outlines her vision for the next five years.
Under Mooney's leadership the College raised funds and built its first new academic building in over 40 years, Spes Unica Hall. This building, dedicated in October 2008, was constructed with no debt. In addition, Mooney secured funds and plans are underway for an extensive renovation of Science Hall. A $9 million gift for the renovation is the largest single private gift in the College's history.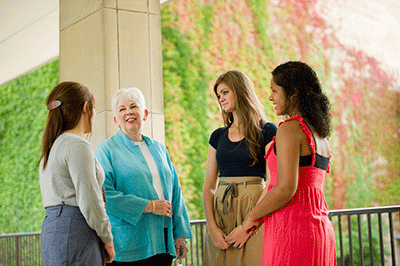 President Mooney visits with Saint Mary's students.Mooney set a goal early in her presidency to move Saint Mary's into the national liberal arts rankings. For the fourth consecutive year, U.S. News ranks Saint Mary's among the top 100 "Best National Liberal Arts Colleges." In The Best Colleges 2013 guidebook, Saint Mary's is listed at 87, the College's most favorable U.S. News national ranking thus far. During her tenure Mooney has also raised the College's visibility on the national level by her service to many national boards, including a term as the president of the Women's College Coalition.
A native of Norwich, N.Y., Mooney graduated from Saint Mary's College in 1972 with a B.A. degree in English and received her J.D. degree from the University of Notre Dame Law School in 1977, graduating first in her class. She practiced law from 1977–78 as an associate attorney in the Washington, D.C., firm of Jones, Day, Reavis and Pogue.
President Mooney's long-time professional involvement in and commitment to Catholic higher education began when she became a member of the University of Notre Dame Law School faculty in 1980. She received the law school's Teacher of the Year award in 1983 and later served terms as both assistant and associate dean of the law school.

President Mooney served as Notre Dame's vice president and associate provost from 1996–2004. In the provost's office, her primary duties included tenure and promotion matters; faculty disciplinary matters; issues related to professional education; and strategies for faculty recruitment, especially the recruitment of Catholics, women, and people of color. (Click for a full biography.)
A resident of South Bend, Mooney serves on boards in the Michiana area including St. Joseph Regional Medical Center. She serves on a number of regional and national boards including the Board of Directors for Independent Colleges of Indiana (ICI), the Presidents and Chancellors Board for the Indiana Campus Compact (ICC), the Board of Control and Presidents' Council for the Michigan Intercollegiate Athletic Association (MIAA), the Board of Directors for the Women's College Coalition, the Board of the Association of Catholic Colleges and Universities (ACCU), and the Board of Directors of the Council for Independent Colleges (CIC).
About Saint Mary's College: Saint Mary's College, Notre Dame, Ind., is a four-year, Catholic, women's institution offering five bachelor's degrees and more than 30 major areas of study. Saint Mary's College has six nationally accredited academic programs: social work, art, music, teacher education, chemistry and nursing. Saint Mary's College ranks among the top 100 "Best National Liberal Arts Colleges" for 2013 published by U.S. News. Founded in 1844, Saint Mary's is a pioneer in the education of women, and is sponsored by the Sisters of the Holy Cross.