Krista Tippett, Host of "On Being," to Offer 2013 Christian Culture Lecture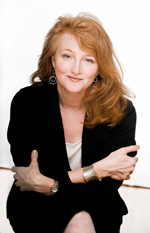 Krista Tippett is the 2013
Christian Culture Lecturer.Contact:
Gwen O'Brien
Director of Media Relations
Saint Mary's College
(574) 284-4579
August 13, 2013 (Notre Dame, Ind.)—Saint Mary's College and the Department of Humanistic Studies proudly announce that the 2013 Christian Culture Lecture speaker is Krista Tippett. The author and journalist is best known as the host of the Peabody Award-winning program On Being (formerly Speaking of Faith) which airs on National Public Radio (NPR). Tippett will offer her lecture, titled "Civic Healing and Christian Virtue in the 21st Century," on Tuesday, September 24 at 7:30 p.m. in O'Laughlin Auditorium. The public is encouraged to attend this free event, though tickets are required (information is below).
"We are delighted to welcome Krista Tippett to Saint Mary's. Both on the radio and in print, Tippett has thoughtfully and intelligently probed the role religion plays in our 21st-century world. Her experiences—professional and personal—as well as her intellectual insights make her an ideal figure to discuss the influence of Christianity and religion, which is a goal of the lecture series," said Laura Williamson Ambrose, assistant professor of humanistic studies and coordinator of the Christian Culture Lecture.
Tippett's radio program On Being examines the big questions at the center of human life, from the boldest new science of the human brain to the most ancient traditions of the human spirit. The program began as an occasional series on Minnesota Public Radio in 1999, then became a monthly national program in September 2001, and launched as a weekly program titled Speaking of Faith in the summer of 2003.
Tippett grew up in Oklahoma, the granddaughter of a Southern Baptist preacher. She studied history at Brown University and went to Bonn, West Germany in 1983 on a Fulbright Scholarship to study politics in Cold War Europe. She spent most of the 1980s in divided Berlin as The New York Times stringer and a freelance correspondent for Newsweek, The International Herald Tribune, the BBC, and Die Zeit. She later became a special assistant to the U.S. Ambassador to West Germany.
Tippett left Berlin in 1988, the year before the Wall fell. In 1994, she graduated from Yale with a Master of Divinity. At the time she noticed the lack of intelligent media coverage on religion. As she conducted an oral history project for the Benedictines of St. John's Abbey in Collegeville, Minnesota, she began to imagine radio conversations about the spiritual and intellectual content of faith that could open imaginations and enrich public life. Out of that idea, her radio program was born.
In 2007, Tippett published her first book, Speaking of Faith, a memoir of religion in our time, including her move from geopolitical engagement to theology and the cumulative wisdom of her radio interviews these past years. Her book Einstein's God explores the fact that science and religion aren't mutually exclusive lines of inquiry. 
The Department of Humanistic Studies sponsors the Christian Culture Lecture through the generous gift of Susan Fitzgerald Rice '61 and Donald Rice. The annual event asks a preeminent figure in the humanities to explore some aspect of the Christian dimension of Western culture.
Tickets to the Christian Culture Lecture will be available at the Moreau Center box office. Go to moreaucenter.com or call (574) 284-4626. Click for a campus map.
About the Christian Culture Lecture: Saint Mary's College Professor Bruno Schlesinger introduced Christian Culture as a major at the College in 1956 and founded the Christian Culture Lecture in 1957. The major was later renamed Humanistic Studies. At its inception the lecture series was largely funded through a grant from the Lilly Foundation. By 1981, the series had become increasingly difficult to administer and it fell silent for 25 years. In 2006, the annual lecture was reinstated thanks to the generosity of Susan Fitzgerald Rice '61, Ed.D., who was a Christian Culture major at Saint Mary's, and her husband Donald B. Rice, Ph.D.
About Saint Mary's College: Saint Mary's College, Notre Dame, Ind., is a four-year, Catholic, residential, women's liberal arts college offering five bachelor's degrees and more than 30 major areas of study, such as business, nursing, art, chemistry, and social work. The College's single-gender environment has been proven, in study after study, to foster confidence, ethical leadership, and strong academic success. Saint Mary's College ranks among the top 100 "Best National Liberal Arts Colleges" for 2013 published by U.S. News. Founded in 1844 by the Sisters of the Holy Cross, Saint Mary's College's mission is to educate women and prepare them for postgraduate success whether it's a first job, graduate school, or postgraduate service.