Outstanding Senior Honored at Alumnae-Senior Champagne Brunch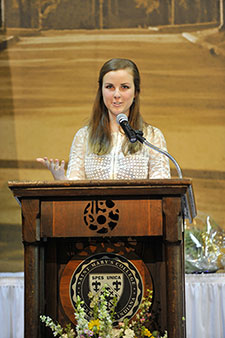 Kaitlyn Rabach '15, the Outstanding
Senior of the Class of 2015, addresses
her classmates at the Alumnae-Senior
Champagne Brunch. May 11, 2015 (Notre Dame, Ind.)—The Saint Mary's College Alumnae Association is proud to announce the recipient of this year's Outstanding Senior Award is Kaitlyn Rabach '15, a political science major with minors in gender and women's studies and global studies. 
The award recognizes a member of the senior class who exemplifies the spirit and values of the College. Tradition dictates that the recipient be someone who carries out the beliefs of her faith in daily living and is distinguished by scholarship, leadership, and outstanding dedication to Saint Mary's—as demonstrated through participation in both curricular and extracurricular activities.
Three seniors are honored each year as exceptional representatives of their graduating class. As the Valedictorian reflects the mind, and the Lumen Christi Award recipient represents the soul, the Outstanding Senior embodies the heart of the class. Rabach, of Muskegon, Mich., was honored at today's Alumnae-Senior Champagne Brunch as part of Senior Week festivities leading up to Commencement, Saturday, May 16.
She offered this thought in her remarks to the Class of 2015: "Because of our all-women's, faith-based education, we have developed the tools to be confident leaders. We learned to be strong in the classroom, and now we're ready for wherever our career takes us in years to come. During our time here, no matter if we spent our energy pursuing the sciences or the humanities, we saw women doing great things. We did great things."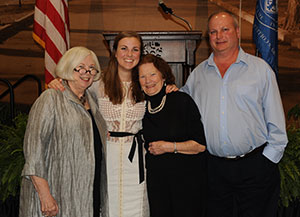 Kaitlyn Rabach '15, center left, poses with her late
mother's godmother, Tina Duignan, and her father,
Tim Rabach. To Kailtlyn's left is Saint Mary's College
President Carol Ann Mooney.The Alumnae Association Board of Directors chooses the recipient from nominees submitted by students, faculty, and staff. She was nominated by Sonalini Sapra, assistant professor of political science and gender and women's studies; Stacy Davis, chair of the Department of Gender and Women's Studies; Laura Elder, assistant professor of global studies; and Jennifer Wright, senior academic advisor.
"Kaitlyn embodies the Mission of Saint Mary's College: She is prepared to make a difference in the world, she is intellectually curious, and she has shown great leadership, civic responsibility, and compassion," Wright noted in her nomination letter.

Rabach's extracurricular involvement includes:
Serving as the Saint Mary's editor to The Observer, the Notre Dame-Saint Mary's student-run newspaper. In that role Rabach expanded the coverage of Saint Mary's news in the paper.
Working in the Center for Women's Intercultural Leadership (CWIL) as both a lead peer mentor and a student coordinator for two summers with the Study of the U.S. Institute (SUSI), a U.S. Department of State supported program at the College. The experience shaped her academic studies and her future plans. 
Interning at ILive2Lead International in Washington, D.C., where she had the opportunity to report on the 2014 "Women in the World Conference" for The Huffington Post and ILive2Lead blog.  She also designed new curriculum for summits and tripled the organization's followers on social media.
Serving in as an intern in the South Bend mayor's office and for the Michigan Women Win Political Action Committee (PAC), and as a staff member for Cathy Forbes's Michigan Senate campaign.
Serving in the Saint Mary's and South Bend communities as a student representative for the College's rebranding initiative; a volunteer at the South Bend day centers St. Margaret's House and La Casa De Amistad; a Study Abroad Mentor in CWIL; and an English language tutor in the College's English Language School for non-native speakers.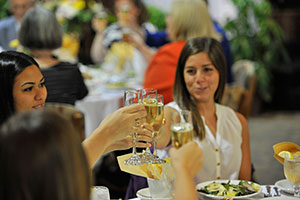 Members of the Class of 2015 toast each other at
the Alumnae-Senior Champagne Brunch.In her speech, Rabach added that among all her experiences at Saint Mary's, the displays of love and compassion were the most moving. "I experienced the true meaning of our sisterhood and Saint Mary's family after the recent passing of my mother. Never before have I felt so much love and kindness from the hearts of my classmates, alumnae, my professors and staff alike. I had always known Saint Mary's is a unique place, but especially in times of difficulty the undeniable support of this community fosters strength among us."
About Saint Mary's College: Saint Mary's College, Notre Dame, Ind., is a four-year, Catholic, residential, women's liberal arts college offering five bachelor's degrees and more than 30 major areas of study, such as business, nursing, art, chemistry, and social work. In the fall of 2015 Saint Mary's College will begin to offer two graduate degrees: a Master of Science and a Doctorate. All programs that fall under these degrees are co-educational and include a Master of Science in Data Science, a Master of Science in Speech Language Pathology, and a Doctorate of Nursing Practice. Founded in 1844 by the Sisters of the Holy Cross, Saint Mary's College's mission is to educate students, develop their talents, and prepare them to make a difference in the world. Saint Mary's College ranks among the top 100 Best National Liberal Arts Colleges for 2015 published by U.S. News & World Report.
Contact for News Media: Gwen O'Brien, director of media relations, Saint Mary's College, gobrien@saintmarys.edu (574) 284-4579