Valedictorian for the Class of 2015 Announced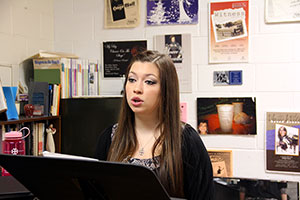 Valedictorian Sarah Miller '15 practices her singing
in a class with music professor Laurel Thomas.Media Contact:
Gwen O'Brien
Director of Media Relations
Saint Mary's College
(574) 284-4579
March 16, 2015 (Notre Dame, Ind.)—Saint Mary's College is proud to announce Sarah Miller is the valedictorian for the Class of 2015. Miller is a music major and dance minor from Carmel, Indiana.
"I was surprised to learn that I am the valedictorian, and feel so honored to represent women that I have learned so much from throughout my four years at Saint Mary's College," said Miller. In the process of auditioning for graduate schools, Miller plans to pursue a master's degree in vocal performance.
Having loved science from a young age, Miller originally thought she might become a medical doctor, but her love of music and her passion for vocals took over. She flourished at Saint Mary's under the direction of music professor Laurel Thomas who became her "mentor, teacher, and inspiration."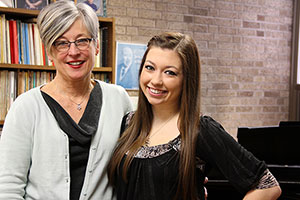 Music professor Laurel Thomas, left, poses with
music major and valedictorian Sara Miller '15.Thomas celebrates Miller's self-discovery at Saint Mary's and her success as an accomplished student of music. "When thinking about Sarah a quote from Harriet Tubman came to mind: 'You have within you the strength, the patience, and the passion to reach for the stars to change the world.' Sarah has the personal strength, the patience to continually work toward her goals, the passion for music and learning that is vital to a life in the arts," Thomas said.
Miller's decision to attend Saint Mary's College was in part due to what she calls the school's perfect pairing of the voice and dance programs, the opportunities to be exposed to science, and the sisterhood that is immediately recognizable when visiting.
"I absolutely loved all of the girls I met when I toured Saint Mary's, and immediately knew it was were I wanted to be," said Miller. "The opportunities are endless, and I encourage current and incoming students to not only take advantage of learning in the classroom, but also from your peers outside of that environment."  Miller did just that, as a member of the SMC Dance Team, as well as being involved with the choir, musicals, and operas, and spending a semester abroad in Rome, Italy. 
"Finding a balance in college can be difficult, but luckily you will always have the Saint Mary's sisterhood as your support system.  My parents have always been huge role models for me, and I have also been able to grow so much here thanks to incredible friends, and the brilliant professors in the Department of Music." 
Click for more information on Commencement or click here for information on the Commencement speaker and honorary degree recipients. 
About Saint Mary's College: Saint Mary's College, Notre Dame, Ind., is a four-year, Catholic, residential, women's liberal arts college offering five bachelor's degrees and more than 30 major areas of study, such as business, nursing, art, chemistry, and social work. By the fall of 2015, pending accreditations anticipated in the spring, Saint Mary's College will offer two graduate degrees: a Master of Science and a Doctorate. All programs that fall under these degrees are co-educational and include a Master of Science in Data Science, a Master of Science in Speech Language Pathology, and a Doctorate of Nursing Practice. Founded in 1844 by the Sisters of the Holy Cross, Saint Mary's College's mission is to educate students, develop their talents, and prepare them to make a difference in the world. Saint Mary's College ranks among the top 100 Best National Liberal Arts Colleges for 2015 published by U.S. News & World Report.