Samantha Grady '15 Recognized with Lumen Christi Award, Highest Student Honor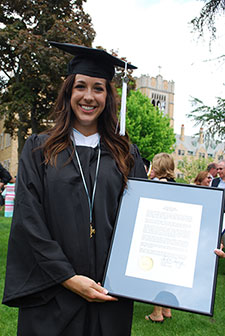 Samantha Grady '15, donning the Lumen
Christi medal given to her at Commencement,
holds the citation read at the ceremony.Contact:
Gwen O'Brien
Director of Media Relations
Saint Mary's College
(574) 284-4579
May 18, 2015 (Notre Dame, Ind.)—Saint Mary's College is proud to announce that Samantha Grady '15, a political science and religious studies double major from Corrales, New Mexico, was honored with the 2015 Lumen Christi Award at Commencement on Saturday, May 16. Three seniors are honored each year as exceptional representatives of their graduating class. As the Valedictorian reflects the mind and the Outstanding Senior embodies the heart of the class, the Lumen Christi Award recipient represents its soul.
The Lumen Christi is the highest student honor at Saint Mary's, awarded to the senior who stands out as an outstanding Christian woman. The recipient is traditionally someone who has excelled in leadership and loyalty to Saint Mary's and whose presence has had a profound effect on the College community. The name of the recipient is not revealed until her name is read at Commencement.
"When my name was read I could hardly believe what I had heard. The description for the Lumen Christi award was the description of every Saint Mary's woman I know. To be recognized with this award is quite humbling," Grady said. "At Saint Mary's I truly sought to be like the people around me. I'm very thankful to Saint Mary's for forming me over the last four years."
According to her award citation, Grady is an excellent student and a woman of faith known for her leadership, love of learning, and concern for others. One of her nominators, a professor, wrote, "She is a joy to teach and one of the most grounded, well-adjusted students I ever had the pleasure to instruct." Another stated, "Her questions and conversational style focus on others, communicating genuine interest in different perspectives as well as enthusiasm about the shared enterprise of learning. Her faith is clearly central to her life and allows her to engage respectfully and whole-heartedly with others, including those who differ from her."
A four-year varsity volleyball athlete, Grady recognizes the importance of athletics, health, and wellness and what it means to be part of a team as a woman of faith. She participated in a women's spirituality group, Friends with Sisters at the convent, and served as a Eucharistic minister and lector. She also studied abroad, led retreats, and coached girls basketball and tennis.
Grady thanked her parents for their support. "They have inspired me by their love, patience, and guidance. They taught me the value of faith and to use that as an anchor. They gifted me with five wonderful siblings and through that instilled in me my first love of community and others."
She will go on to Loyola University Chicago to pursue a Master's degree in Theological Studies with a minor in Education.
About Saint Mary's College: Saint Mary's College, Notre Dame, Ind., is a four-year, Catholic, residential, women's liberal arts college offering five bachelor's degrees and more than 30 major areas of study, such as business, nursing, art, chemistry, and social work. In the fall of 2015 Saint Mary's College will begin to offer two graduate degrees: a Master of Science and a Doctorate. All programs that fall under these degrees are co-educational and include a Master of Science in Data Science, a Master of Science in Speech Language Pathology, and a Doctorate of Nursing Practice. Founded in 1844 by the Sisters of the Holy Cross, Saint Mary's College's mission is to educate students, develop their talents, and prepare them to make a difference in the world. Saint Mary's College ranks among the top 100 Best National Liberal Arts Colleges for 2015 published by U.S. News & World Report.