Saint Catherine Medal Awarded to Third-Year Student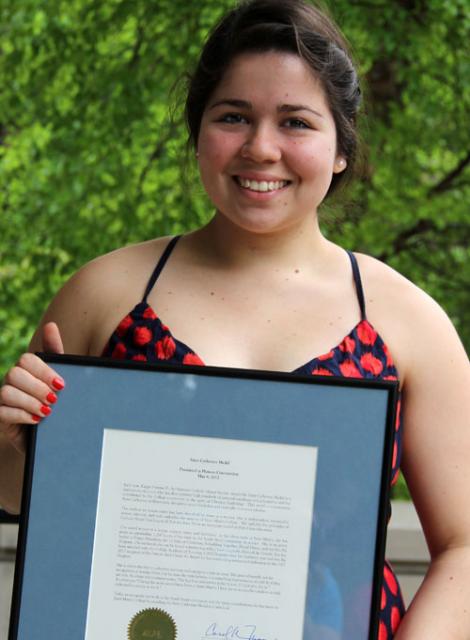 Carla Leal '13, 2012 recipient of the
Saint Catherine Medal.Contact:
Gwen O'Brien
Director of Media Relations
Saint Mary's College
(574) 284-4579
May 8, 2012 (Notre Dame, Ind.)—Saint Mary's College President Carol Ann Mooney presented Carla Leal '13 of Brownsville, Texas with the Saint Catherine Medal at Honors Convocation on Sunday, May 6. Each year, Saint Mary's College awards the Saint Catherine Medal to a sophomore or junior who has demonstrated high standards of personal excellence and scholarship and has contributed to the College community in the spirit of Christian leadership. The award commemorates Saint Catherine of Alexandria, the patron saint of scholars and especially of women scholars. Kappa Gamma Pi, the National Catholic Honor Society, sponsors the award.
Leal, a psychology major, is described in her award citation as a woman who is independent, resourceful, service oriented, and truly embodies the mission of Saint Mary's College. According to the citation, she upholds the principles of Catholic Social Teaching in all that she does and is an exemplary model of Holy Cross education.
According to the award citation, Leal is a leader, mentor, tutor, and facilitator. In her three years at Saint Mary's, she has given an astounding 1,200 hours of her time to the South Bend community in service. She is an active leader in Dance Marathon, the 12 Days of Christmas, Rebuilding Together, blood drives, and the Pen Pal Program. On weekends she can be found volunteering with a local nonprofit Hannah & Friends. She has been involved with the College Academy of Tutoring (CAT) Program since her freshman year and was the 2011 recipient of the Patricia Arch Green '61 Award for her outstanding service and dedication to the CAT Program.
According to the award citation, Leal is always the first to volunteer her time and energy to a task or cause. She gives of herself, not for recognition or resume fillers, but because she truly believes it is something that everyone should do if they are able. A college administrator notes, "She has love and service in her bones. It's just who she is." Another says, "During the seven years I have been at Saint Mary's, I have yet to see another student as truly dedicated to service as she is."
The Saint Catherine Medal is a tribute to Leal's considerable contributions to Saint Mary's College. Students, faculty and staff nominate candidates for this award and the Academic Affairs Council makes the final selection. The name of the recipient is not revealed until the Convocation.
About Saint Mary's College: Saint Mary's College, Notre Dame, Ind., is a four-year, Catholic, women's institution offering five bachelor's degrees and more than 30 major areas of study. Saint Mary's College has six nationally accredited academic programs: social work, art, music, teacher education, chemistry and nursing. Saint Mary's College ranks among the top 100 "Best National Liberal Arts Colleges" for 2012 published by U.S.News and World Report. Founded in 1844, Saint Mary's is a pioneer in the education of women, and is sponsored by the Sisters of the Holy Cross.