Senior Receives Prestigious Orr Fellowship, Paired with Indiana Company for 2 Years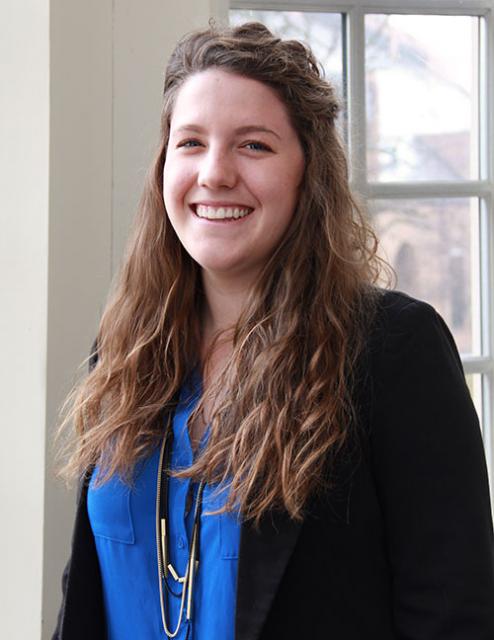 Nicole Clayton '13 was recently named an Orr
Fellow and was paired with the Indiana company
Courseload for the next two years. Contact:
Gwen O'Brien
Director of Media Relations
Saint Mary's College
Notre Dame, Ind.
(574) 284-4579
April 17, 2013 (Notre Dame, Ind.)—Saint Mary's College is proud to announce that for the second year another Saint Mary's senior has been named an Orr Fellow.

Nichole Clayton '13 is the latest Saint Mary's student to receive the Orr Fellowship, a two-year postgraduate opportunity that connects high potential professionals with dynamic, fast growing entrepreneurial companies in Indiana. Clayton, from Bay City, Michigan, is a communication studies and business administration double major, with a concentration in management. For the next two years, she will work with her Orr Fellowship host company Courseload.
According to Ashton Chaffee, offline marketing champion for the Orr Fellowship, and second year fellow at Slane Capital Partners, "In addition to the unique professional experience Nichole will encounter, the Orr Fellowship delivers executive-level mentorship, the ability to build an impressive professional network through business leader meetings, and professional development opportunities. Since 2001, more than 130 young professionals have jump-started their careers by participating in the program."
Clayton started her journey to the fellowship through her connection with Saint Mary's alumnae and current Orr Fellows Melissa Jackson '12 and Amanda Lester '12. Jackson and Lester were the first Saint Mary's students to have been selected for the fellowship.
"Melissa and Amanda came to my Strategic Management class to discuss the opportunities within the fellowship," recalled Clayton, who applied for the fellowship soon after the class visit. "It was a long process, filled with a series of in-person interviews, personal essays, and meet-and-greet information sessions. After each event a few more candidates made it through. With each step you had a current fellow that was guiding you. In my case it was Melissa."
Clayton said the process started in September and ended in December with what's called Finalist Day.
"Finalist Day was an exciting yet grueling day of interview. I drove down to Indianapolis and was interviewed by four different companies. It was like speed dating but with interviews," Clayton said. "A half hour after my last interview for the day, I received a call from the director of the fellowship offering me an position with Courseload. The hard work paid off and I couldn't be more excited."
Clayton will be working in the marketing and sales department at Courseload.
"Essentially the company is working to provide a platform for college students and professors to access and interact with their course material online. This startup company has great potential because of the digital shift we are seeing in schools already, especially at the lower school levels," she said of the company.
Clayton is excited to start her bright future with the Orr Fellowship.
"The Orr Fellowship's focus on leadership, service, and personal development is exactly what I hope to take out of the two-year commitment. My goal is to act on opportunity, prioritize listening, stimulate learning, and embrace change and the Fellowship will be instrumental in helping me with that."
Clayton appreciates the preparation and opportunities offered by her Saint Mary's experience.
"Saint Mary's has pushed me to challenge myself both personally and professionally. I thoroughly enjoy my studies in both business administration and communication studies. I am more than just a number at Saint Mary's. My professors know me by name and genuinely show concern for my learning. My education and the doors it has opened certainly is the most rewarding part of my decision to come to Saint Mary's."
About the Orr Fellowship: Commonly referred to as the Orr Fellowship, the Governor Bob Orr Indiana Entrepreneurial Fellowship provides a unique opportunity to soon-to-be college graduates. About 25 Orr Fellows are selected each year from a couple thousand applicants to break into the professional world through paid positions with high-growth Indiana companies. Applicants must be natives of Indiana or have attended a college/university in the state. During their two-year tenure, Orr Fellows gain executive-level mentorship at their host companies and build professional and peer networks. The Orr Fellowship was established in 2001. 

About Saint Mary's College: Saint Mary's College, Notre Dame, Ind., is a four-year, Catholic, residential, women's liberal arts college offering five bachelor's degrees and more than 30 major areas of study, such as business, nursing, art, chemistry, and social work. The College's single-gender environment has been proven, in study after study, to foster confidence, ethical leadership, and strong academic success. Saint Mary's College ranks among the top 100 "Best National Liberal Arts Colleges" for 2013 published by U.S. News. Founded in 1844 by the Sisters of the Holy Cross, Saint Mary's College's mission is to educate women and prepare them for postgraduate success whether it's a first job, graduate school, or postgraduate service.