Saint Mary's College Applies for Second Patent in School's History
—Latest Patent Filing Related to First, Filed in 2012—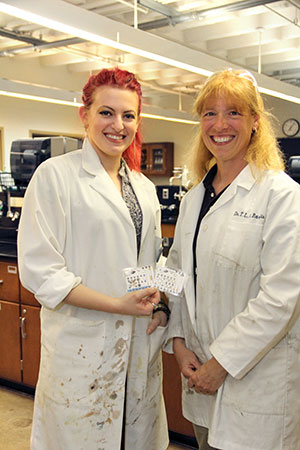 Chemistry professor Toni Barstis, right, and
Mary Bevilacqua '12 enhanced the PAD to
include what Bevilacqua calls the "capillary
method." The fabrication enables safe handling
of harsher chemicals needed to screen certain
pharmaceuticals.Contact:
Gwen O'Brien
Director of Media Relations
Saint Mary's College
Notre Dame, Ind.
(574) 284-4579
May 7, 2013 (Notre Dame, Ind.)—Saint Mary's College is proud to announce it has filed for its second patent in the College's 169-year history. The first patent was filed last summer. Both patents are pending and will protect paper analytical device (PAD) tools developed by chemistry professor Toni Barstis, PhD, and a team of undergraduate chemistry students at this Catholic, liberal arts college.
Research teams at Saint Mary's College and the University of Notre Dame have worked on separate and combined PADs research.
The original PAD is a chemically treated paper that resembles a business card. To check for ingredients found in low quality or counterfeit pharmaceuticals, a person simply swipes the pill onto the PAD and dips the PAD in water. Color changes on the PAD indicate both suspicious and authentic ingredients. The screening takes less than five minutes. This lies in stark contrast to high-tech analytical methods, which are expensive and time-consuming. Instrumental testing of pharmaceuticals in Kenyan labs can take 3-6 months. Precious time can be lost as a patient waits for treatment.
The latest patent will protect an enhancement of the original PAD invented by Barsitis and Mary Bevilacqua '12. Each capillary, or thin tube, in the PAD holds a chemical, which is released when the user bends the PAD, breaking the capillaries. Bevilacqua says the idea was inspired by glow sticks, which are activated after you bend the stick, breaking a capillary inside.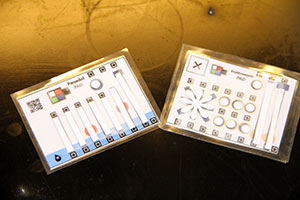 The PADs are the size of a business card and can screen
whether certain drugs are low quality or counterfeit. The
PAD on the right contains capillaries. Each capillary holds a
chemical, which is released when the user bends the PAD."My goal was to adjust the PAD to meet the needs of the chemistry," Bevilacqua said. Like the original PAD, the device is user-friendly, inexpensive, and effective—all qualities necessary for the device to be viable in the marketplace.
Barstis is proud to see what her team has been able to accomplish and congratulates Bevilacqua and other students on taking the research to the next level. "Each student researcher, past and present, has been driven by her desire to combine their scientific education with that of service. Our students, like the College's founders—the Sisters of the Holy Cross—are strong, educated women who recognize a problem and respond with a creative solution," she said.
The World Health Organization estimates that 10-30 percent of the drug supply in developing countries consists of counterfeit or low quality medicines, causing hundreds of thousands of deaths each year. For instance, problems have been documented in Kenya, Nigeria, India, Vietnam, and Panama. Officials blame crime rings, which profit from selling pills that contain plaster of Paris, baking soda, or other inexpensive ingredients.
About Saint Mary's College: Saint Mary's College, Notre Dame, Ind., is a four-year, Catholic, residential, women's liberal arts college offering five bachelor's degrees and more than 30 major areas of study, such as business, nursing, art, chemistry, and social work. The College's single-gender environment has been proven, in study after study, to foster confidence, ethical leadership, and strong academic success. Saint Mary's College ranks among the top 100 "Best National Liberal Arts Colleges" for 2013 published by U.S. News. Founded in 1844 by the Sisters of the Holy Cross, Saint Mary's College's mission is to educate women and prepare them for postgraduate success whether it's a first job, graduate school, or postgraduate service.