Senior Class President Named Outstanding Senior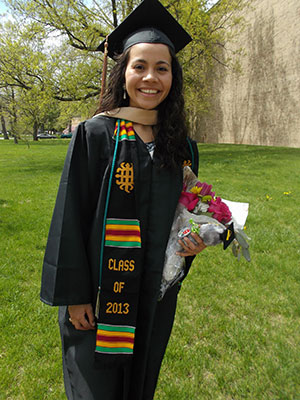 Silvia Cuevas is the 2013 recipient of the
Outstanding Senior Award.Contact:
Gwen O'Brien
Director of Media Relations
Saint Mary's College
(574) 284-4579
May 13, 2013 (Notre Dame, Ind.)—Saint Mary's College is proud to announce that the recipient of this year's Outstanding Senior Award is Silvia Cuevas of Hammond, Indiana. Cuevas, the Senior Class President, is a business administration major with concentrations in finance and international business. She received her recognition at the Alumnae-Senior Champagne Brunch, which was held today.
"I am very honored to receive this prestigious award. My Saint Mary's experience has been incredible. I want to thank my peers, my professors, and staff for these phenomenal past four years. My mind and heart have been exposed to so many great things and I cannot wait to begin my professional career as a Saint Mary's alumna. My heart will always be at Saint Mary's and will be one of my favorite chapters to look back on in my life," she said. 
After graduation, Cuevas will work as a business analyst for Target at the corporate headquarters in Minneapolis.
Every year the Saint Mary's College Alumnae Association Board of Directors presents the Outstanding Senior Award to a member of the senior class who exemplifies the spirit and values of the College. The board chooses the recipient from nominees submitted by students, faculty, and staff. Tradition dictates that the recipient be someone who carries out the beliefs of her faith in daily living and is distinguished by scholarship, leadership, and outstanding dedication to Saint Mary's—as demonstrated through participation in both curricular and extracurricular activities. As the valedictorian represents the mind, and the Lumen Christi Award recipient reflects the soul, the Outstanding Senior embodies the heart of Saint Mary's.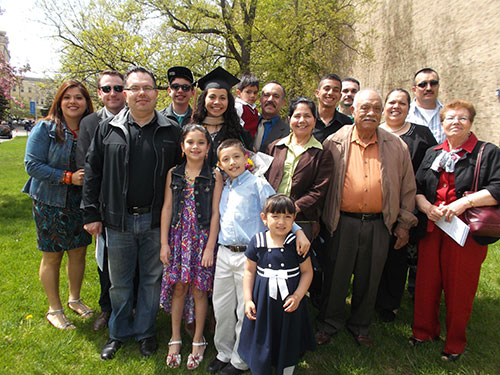 Silvia Cuevas, center, is surrounded by her proud family. She is the
2013 recipient of the Outstanding Senior Award.As stated in her award citation, Cuevas has been active on campus in several capacities. She has served as the Senior Class President and a peer minister, and served on boards such as the Student Government Association and the College's Mission Council. "As Mission Commissioner, Sylvia focused on helping students integrate their own values with those of the College, making a real difference in promoting the spirit and living heritage of Saint Mary's. Her enthusiasm on the Mission Council was contagious and spilled over to all the members, nourishing their own dedication and love of mission," said Sister Veronique Wiedower, vice president for mission.
Cuevas was part of the Intercultural Leadership Program through the Center for Women's Intercultural Leadership, a program that deepens students' understanding of the ethical and spiritual dimension of leadership. She served as the voice for students on the Commencement Committee this year, and helped plan Heritage Week, which invites current Saint Mary's students to attain a deeper understanding of the founders of the College—the Sisters of the Holy Cross.
"Silvia's passion for life is evident in her welcoming personality, her desire to learn from others and her openness to enter diverse cultures in order to explore social justices," said Judy Fean, director of campus ministry. "As a strong woman of faith, Silvia has the courage to explore the social injustices in our world and grow in her intellectual ability to enter the world with integrity and hope."
Cuevas' combination of intelligence, spirit, and determination are what make her stand out as she graduates from Saint Mary's. Involved in leadership, faith-based, and cultural-awareness positions, she is truly an outstanding senior.
About Saint Mary's College: Saint Mary's College, Notre Dame, Ind., is a four-year, Catholic, residential, women's liberal arts college offering five bachelor's degrees and more than 30 major areas of study, such as business, nursing, art, chemistry, and social work. The College's single-gender environment has been proven, in study after study, to foster confidence, ethical leadership, and strong academic success. Saint Mary's College ranks among the top 100 "Best National Liberal Arts Colleges" for 2013 published by U.S. News. Founded in 1844 by the Sisters of the Holy Cross, Saint Mary's College's mission is to educate women and prepare them for postgraduate success whether it's a first job, graduate school, or postgraduate service.